Woman Around Town Celebrates
Five New York Press Club Awards
The New York Press Club gathered on June 13 at the Water Club to honor great writing and Woman Around Town was among those singled out for recognition. Cheered on by family and friends, Woman Around Town's writers accepted five awards. Charlene Giannetti, co-founder and editor, received the prestigious Mychal Judge Heart of New York Award, for her profile of educator Edes Gilbert, who attended the ceremonies. The Mychal Judge Award, named in honor of the priest who was the first victim of 9/11, honors reporting that is most complimentary of New York City. This is the second year that Woman Around Town has won this award. In 2010, Carol Toscano won for her profile of Hilary Boyajian, who designs beautiful clothing for breast cancer survivors. (In photo above, from left, Charlene Giannetti, Alix Cohen, and Merry Sheils).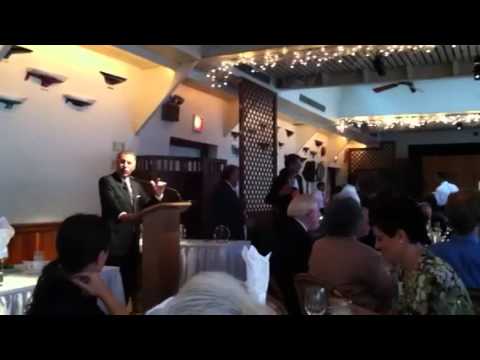 Giannetti received two other awards, one in the Entertainment News category for "Frank Sinatra—The One and Only Voice," her review of James Kaplan's biography Frank: The Voice, and the second in the Crime Reporting category for "Lt. Jack Cambria's Gift of Gab Saves Hostages."
Alix Cohen received an award in the Feature Reporting category for her story "Vicki Abelson: Move Over Gertrude Stein." This is Alix's second consecutive win. In 2010, she was recognized in the Entertainment Reporting category for her review, "The Lily's Revenge—A Flowergory Manifold."
Merry Sheils won in the Business Reporting category for her three-part series, "The ABC's of ETFs—A Three Part Series About Investing in ETFs."
Founded in 1948, the New York Press Club is a professional organization of members and former members of the news media. Although in its early days, the group included mostly those working for newspapers and magazines, today the membership takes in professionals from all fields of communications. Woman Around Town's awards were in the Internet category.
Glenn Schuck, president of the Press Club, said that there were a record number of submissions for awards this year. Only the Wall Street Journal, with six awards, and the Bloomberg properties (radio, TV, web, and Bloomberg Business Week), received more awards than Woman Around Town.
Before the awards ceremony, Press Club members and guests enjoyed drinks and hors d'oeuvres on the Water Club Terrace overlooking the East River. (Above, Pat Saunders, left, a Woman Around Town, and Kenley Ferrara, who writes about fitness for the site).
Mayor Michael Bloomberg was on hand during the cocktail hour to congratulate some of the winners, although he jokingly admitted a bias for the Bloomberg properties.
Also on hand were Ray Kelly, Commissioner of the New York Police Department, and Salvatore Cassano, Commissioner of the New York Fire Department, who swore in Schuck for his third year as Press Club president.
David Diaz, Press Club Vice President and a Journalism Professor at CUNY, served as Master of Ceremonies, keeping things moving at a brisk pace while also managing to say something noteworthy about each award recipient. He observed that even though Woman Around Town is a new website, it had won "several" awards.
Woman Around Town New York was launched in 2009 by Giannetti and Debra Toppeta, an attorney who is the site's publisher. In September, 2010, a second site was launched for women living and working in Washington D.C. In addition to writing about outstanding women (and men!) in both cities, the site also features reviews of plays, films, TV shows, books, restaurants, and theater. Other topics that are covered include shopping, healthy, fitness, technology, parenting, relationships, and travel.
Giannetti, a graduate of Syracuse University's Newhouse School of Communications, has written for newspapers and magazines in both Washington and New York. She is the author of 11 books, including eight books for parents of young adolescents written with Margaret Sagarese. These include The Roller-Coast Years, Parenting 911, Cliques, What Are You Doing in There? Good Parents, Tough Times, and Boy Crazy! She has appeared on the Today Show, CBS Morning Show, MSNBC, CNN, NPR, and many other media outlets. Her articles have appeared in a wide variety of publications.
Along with Edes Gilbert, Giannetti is on the advisory board for NYC Parents in Action, a nonprofit that promotes good parenting to combat alcohol and drug abuse among young people. "I've always been impressed with Edes and knew I wanted to feature her on the site," said Giannetti. "Her work with public schools and Teach for America, as well as the way she connects with parents and students, sets her apart from other educators. Her story is an inspiration and obviously the Press Club agreed."
Alix Cohen has always been interested in the arts and has always written. Up until about five years ago, however, her professional life had been primarily concerned with design and product development serendipitously lurching from textiles and fashion to toys, room décor and furniture. In the course of almost all of these endeavors, she also authored copy, catalogs, ads, and press releases. After the last Creative Director position held, Alix felt it was time to pursue writing full time. A self-identified "cultural sponge," she explores magic, burlesque, puppets, circus, cabaret, exhibitions, lectures, concerts, dance, film, and theater on and Off Broadway. Her astute reviews for Woman Around Town provide readers with insight and understanding that enrich each and every cultural experience. She particularly enjoys writing profiles of interesting creative people—artists, designers, performers, authors, restaurateurs, entrepreneurs and the heads of arts organizations. This led her to interview Vicki Abelson, truly a modern-day Gertrude Stein, a writer who inspires other writers.
Merry Sheils earned a B.S. degree in Finance from State University of New York. She is a member of 100 Women in Hedge Funds; chair of its 2Gen Committee; a founding member of GAM Investment Research; and she serves on the Investment Strategy Committee at NYSSA. With solid investment skills honed in senior portfolio manager and strategist positions at BNY/Mellon and Wilmington Trust, Sheils brings an industry focus and discipline to the communications process. Skilled in matching complex financial concepts with an understanding of the client mindset, she was able to translate the intricacies of ETFs in her three-part series for Woman Around Town. In her spare time, Merry is a member of the Metropolitan Opera Guild, the Old Chatham Hunt Club, Columbia County Historical Society, and is a volunteer facilitator for Osborne Family Ties. She is an international marathon runner and has completed 24 marathons.
Photos by Theresa Giannetti