Woman Around Town: Cookie Stark—The New Kid on the Block
When Cookie Stark's vocal coach and director, Eric Michael Gillett, gave her the song Let's Talk Dirty to the Animals (by Gilda Radner), the #%!* vocabulary didn't upset her. Still, others might be uncomfortable, so she tested it on her 23 year-old granddaughter. Picture a petite, ladylike woman of 80 with a low, slightly gravelly voice and a cultured Boston accent singing: The animals, the animals/Let's talk dirty to the animals/ F*ck you, Mister Bunny/Eat sh*t, Mister Bear/If they don't love it/they can shove it/Frankly, I don't care."Tell me the truth," she asked Sara. "Would it embarrass you? Should I do it?" "Of course, grandma, you're in show business; that's what you do!" was the emphatic response.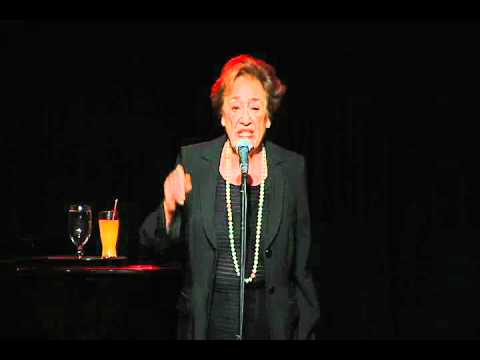 Cookie Stark Ready or Not premiered at The Laurie Beechman Theater in November 2011. (Read the review). The song and its deadpan delivery were met by gales of laughter. It was only the performer's second professional appearance. Ever. "I have to tell you this. Since my 70s, I dreaded my 80th birthday. But now…!" Cookie's eyes sparkle with anticipation. We're sitting in her comfortable, sunny living room talking about how she got "here" from "there."
Celia (Cookie) Cohen was raised in blue collar Chelsea, Massachusetts, one of four sisters many years apart in age. "I don't think I was especially planned."Her mother died when she was three. Seven maternal aunts took up what slack they could. Her father, a self-educated man, saw to it the kids were exposed to as much culture as he could afford. Eventually, he remarried. The Cohens lived upstairs from Cookie's best friend Joan whose father, Sammy Eisen, was the Lester Lanin of Boston. His orchestra played for debutante balls and society affairs. Weekends, the girls would go dancing to vocalists like Vaughn Monroe. They listened to Frank Sinatra but "…weren't the kind of people who would, you know, stand in line…"
Later Eisen also owned (with Ruby Newman) The Casino Nightclub in the posh vacation resort town of Magnolia. When Joan's family would go to Magnolia for the summer, Cookie would visit. Between outdoor activities, the girls watched performers rehearse. "One of my secret dreams was to stand in the crook of a piano and be a chanteuse." Except for singing in camp shows as a child, however, it never occurred to our heroine to pursue the stage. "I sang around the house-for myself." I asked Cookie whether she was jealous of Joan's lifestyle. "The only thing I envied were people that had a mother."
At 21, Cookie married law student Ken Stark. When her husband got drafted, she found herself working as a private secretary at Sampson Air Force Base in Geneva, New York. Soldiers her own age flirted, but were told in no uncertain terms she had a husband. Thinking they'd be understanding and lenient, the boys asked whether the Starks would chaperone a party. "That's how I got pregnant by my husband the first time," Cookie recalls smiling. Determined to be "the best damn mother," she quit work to devote herself to the job. Two more babies followed, she had all girls. Sometimes their mom sang to them.
Ken Stark became a commercial real estate lawyer. The family moved to Glen Cove, Long Island where Cookie raised her children. By their late 40s, the couple was financially comfortable. They took a pied-a-terre in Manhattan (now inhabited by one of her daughters). "We did everything—the ballet, Carnegie Hall, theater, lots of cabaret…The Rainbow Room, The Algonquin, The Carlyle…" Ken was a restaurant maven and became an oenophile. The Starks traveled.
"He was smart, funny, wise, very sure of himself and he took care of me. I could've done it, but I like being taken care of. He let me know I was needed, not just as a foil, and very much loved." Cookie pauses. "I remember he used to send me flowers for no reason. My favorites were anemones. One bunch arrived with a card that said: Any anemone of yours is an anemone of mine. I was lost when he died. (16 years ago, a week short of their 44th anniversary). There wasn't much for me to do out there. I was really depressed." The new widow moved into Manhattan, but kept going back and forth to Long Island.
And then everything changed.
Cookie was accustomed to having her hair done by Richard Cramer at Donsuki Salon. "You know how they play music? I'd sit there quietly singing. Richard is, as he likes to put it, a hairdresser by day, a comic by night and a legend in his spare time," which is to say not your ordinary salon practitioner. Cramer asked whether she enjoyed singing. "I said yes, it's too bad I don't know how. The next time I had an appointment, Eric Michael was in the chair and we were introduced. This guy's gonna teach you how to sing, Richard said." (Gillett teaches at Singer's Forum on West 24th Street). That was three short years ago.
"Richard told me I would have to sing a song in the first class; I had something in my head. Then, the man before me sang The Impossible Dream, which was Ken's favorite. It reached me. I changed my mind and performed I'll Be Seeing You. I was a gloomy, moody, little old lady. Because of that, I guess the song had a lot in it."
When Gillett first met Cookie, she seemed terribly sad to him, as if she'd given up on herself and her life. The first weeks in class, she consistently sang songs from a past that was emotionally volatile for her. She'd cry almost every time she took the stage. "It took awhile to help her understand that this ability to access her feelings publicly was an asset and not a liability. I told her often that most artists spend half their careers trying to reach a point where they can unashamedly go to the deep emotional place she was willing to go to from the get-go," he told her. "I had no trouble getting up and singing in front of the group. It's a very safe place, it really is. I listened to Eric Michael with the other students. He's kind and not at all judgmental…"
She added private lessons to her time at the school. "I was very distressed with the people in Glen Cove. They were doing old things. It was so dull. Friday was bridge day. If you couldn't play, you had to find a substitute. And I kept having to get substitutes. Finally, I said, I love you all, but…and resigned."
Feeling it necessary for her to sing something unassociated with sad memories, Gillett asked that Cookie bring in a "happy song." She chose The Lady is a Tramp. Her delivery was saucy and intelligent. Pausing before the word "tramp" as if searching for a word that would sum up the qualities listed in the song, brought the room to a standstill. "You could see a natural born story-teller emerging," Gillett muses. "I stole Cookie's take on the lyric and used it for Karen Akerss' Rodgers & Hart show. One major critic made special mention of the song's phrasing. I showed it to Cookie and said, "Look! That delivery was totally and completely yours."
"The more I did it, the more I enjoyed it. I was with young, vital, friendly people. I'm not Cookie the old woman in class, I'm equal, just another student. It was very exciting. Students used to go out afterwards and invite me to come along. I started to go to their individual cabarets. It was wonderful and new."
A year and a half later, Gillett recommended she join Mark Simon's professional class. He wanted his student to realize she was as strong a performer as those who were doing it for a living. Cookie took to it like a duck takes to water. "The best part was watching her honestly assess other students, then get onstage with confidence. No one in class could believe she wasn't a former performer/vaudevillian/Broadway actress/what-have-you who was returning to the business late in life. He laughs. " She's not used to being the center of attention, though. It's been tough to get her to accept that when she's working, she needs to take charge, host the experience, become the attraction."
"After we sing, we're asked how we think we did—which is hard. We grow through the honest back and forth discussion we have about our acting choices and whether or not we think we've fulfilled them. Then we do the song again and try to raise the stakes or alter our choices in a way that makes the song more alive and full."
Gillett decided to craft a duet show for Cookie and another student to be called Two Broads Sitting Around Singing. When scheduling became untenable for the other artist, they moved on to Presenting Cookie Stark. Half the evening would be Gillett's (he is also a respected performer), half Cookie's. The piece opened at Don't Tell Mama December 2010. It was 78 year-old Cookie Stark's first professional appearance. The aforementioned Cookie Stark Ready or Not followed in different versions November 2011 and March 2012.The two are working on a new show. Gillett chooses material for Cookie that allows her to challenge herself while remaining true to her spirit. "…sassy, smart text, a modicum of sentimental material, and songs that speak to the journey she's currently taking." Everything is chosen for its truth and connection to her life.
Cookie Stark can't read music or play an instrument. How then does she learn all these songs? "Jeff (Cubeta, her accompanist and musical director) plays and sings a number, then makes me a CD. I take it home and listen to it over and over." She's apparently always been able to remember lyrics. It's a very ancient saying/But a true and honest thought/That if you become a teacher/ By your pupils you'll be taught. (Rodgers & Hammerstein from The King and I).
What have you learned from Cookie? I ask Gillett. "Cookie has changed my life profoundly. She has given me a gift I can never repay in reminding me of why I teach and why I love what I do. There is nothing jaded or false about her. Her honesty in her life is the honesty she brings to her art. She is a constant reminder to me to be better than I think I can be on any given day, whether I'm performing or teaching. And she's taught me that life is never over until it's over."
Cookie Stark is currently a both a private voice student with Eric Michael Gillett and a student in the Audition & Vocal Performance class at Singers Forum. She's enrolled in Acting for the Musical Theatre at HB Studio and is about to start studies with teacher Alice Spivak. Oh, and she might start taking piano lessons soon.
"I really never felt like this before. Like it's about me…I don't know…I was a fat little girl…it's been all about my husband and my kids. Everybody has to be needed, to have a place. A mother is a natural place. I couldn't ask for better, more supportive children and grandchildren. This has made me happy, given me a new lease on life."
I am still learning. Michelangelo
All unattributed quotes are Cookie Stark
Eric Michael Gillett's I Won't Sing a Sondheim Song…or Will I?, currently at The Laurie Beechman Theater, features Cookie Stark as a guest soloist.
Photos, from top:
1. Cookie performing at the Laurie Beechman Theater
2. Cookie at 18
3. Family–Betsy, Tina, Cookie, Ken, & Jane Stark.
4. Cookie with Eric MIchael Gillett (photo by John Purick)
5. Cookie in class: left right—Darrel Thorne, John Koprowski, Cookie Stark, Lynn Kearney, Asami Tsuzuki, Linda Marie Shannon.
Woman Around Town's Six Questions
Favorite Place to Eat: Via Emilia, Ruth Chris Steak House
Favorite Place to Shop: Saks Fifth Avenue, though I mostly don't like huge stores. Just recently, I went to Diane Von Furstenberg in the meatpacking district with my daughter and I enjoyed shopping there a lot.
What You Love About New York: The variety of people…and all the different restaurants- and they don't have to be the most expensive.
What You Hate About New York: People who are rude and pushy.
Favorite Site & Favorite Moment: Believe it or not, these are both very, very recent. For my 80th birthday, Eric Michael took me out to the River Café. He arranged for a window table directly under the Brooklyn Bridge with an absolutely perfect view. I felt like I was in a movie, sitting at that table and looking at the beautiful city I love so much, knowing that I have found an entirely new life at this late stage of the game. Sitting at that table and looking at the city made me realize, for the first time, that my family, my dreams and my life are all wrapped up in the beautiful gift that New York City has always been for me.