Woman Around Town: Jenna Esposito—Celebrating the Hits of the 50s and 60s
Anthony Dominick Benedetto has won five Grammys, two Emmys, and recorded 70 albums. You may have found his latest, a blockbuster this holiday season, under your tree. Don't recognize the name? Well, how about Tony Bennett? Like so many Italian-American singers who came to fame during the 50s and 60s, Bennett changed his name to one that was less ethnic. Jenna Esposito, a young singer who is taking the cabaret world by storm, has no plans to change her name. What she has planned, however, is a show, Italian Undercover, that will have its encore performance at Feinstein's on January 11. Esposito, backed up by a five-piece band, will sing hits made famous by a stellar group of Italian-Americans, including Francesco Paulo LoVecchio, Lugee Alfredo Giovanni Sacco, and Concetta Franconero, better known as Frankie Laine, Lou Christie, and Connie Francis.
Esposito came up with the idea for the show after reading Amore: The Story of Italian American Song, by Mark Rotella, who will be at Feinstein's to introduce the evening's program. "This was a show waiting to happen," said Esposito. "The fact that there's this group of singers who are all Italian and who changed their names seemed like the perfect theme for a show. Some of them people know about; some of them even I didn't know about."
Italian Undercover will no doubt be a hit with Baby Boomers who grew up with songs like "Venus" (Frankie Avalon), "Wild One" (Bobby Rydell), "Lightning Strikes" (Lou Christie), "That Lucky Old Sun" (Frankie Lane), and "That's Amore" (Dean Martin), to name a few. Through Jenna, however, younger generations are becoming fans and it's easy to see why. Jenna brings a freshness and enthusiasm to these rock 'n roll standards. "Because of my dad, I grew up listening to WCBS-FM riding in the car," she said. "I grew up with Elvis, Connie, and all that great music from the 50s and 60s. Naturally, some of it has worked it's way into my repertoire."
Esposito was born and raised in Middletown, New York. Her father was a music teacher and, in his off hours, played in a wedding band. "I grew up in a home surrounded by music," she said. "My dad was always rehearsing with his band. Music was never anything I was forced into. I just loved it."
When Jenna was 10, she played Annie in a summer production. Her sister, who was three years older, had already expressed her desire to sing opera and was taking voice lessons. Initially, Jenna resisted the idea of formal training. "My parents took me kicking and screaming to voice lessons," she said. She discovered that her parents knew best. "I learned from the bottom up how to sing," she said. "It served me so well, I was really grateful. I wasn't going to strain my voice or hurt myself."
Esposito attended the Storm King School in Cornwall on the Hudson. With only 120 students, the high school didn't have enough musicians to form a concert band, so Jenna sang in the jazz band. "I got hooked on Ella Fitzgerald," she said. "That just opened up a whole new world for me." By the time she entered Sarah Lawrence College, she had quite "an arsenal" of music, including songs by many Italian-American singers.
After college graduation, Jenna spent several years touring with children's theater, including the Shawnee Playhouse in the Poconos, and the George Street Playhouse in New Brunswick, New Jersey, where she was an understudy for a play that starred Chita Rivera. "She was just magical," Jenna recalled. This past February, Jenna found herself performing in the same cabaret show with Rivera and was thrilled that the legendary performer remembered her.
Performing in children's theater helped Jenna perfect her comedic timing. "Kids don't laugh if it isn't funny," she said. "Adults might be polite and chuckle a bit, but with kids a split second may make a difference on stage." Jenna found that training invaluable later on when perfecting the talking parts of her cabaret act.
In 2003, Jenna moved into the city and held a series of service jobs—Starbuck's, Bliss Spa, among them—to pay the rent. "The pay was terrible, but I could do my own shows at night," she said. When she finally had the opportunity to perform her first cabaret show, she felt it was like coming home, reminding her of the times she sang with her father's band. "I didn't know what I was doing at first," she said, with a laugh. "I was turning out a different show every month," rather than growing and developing one or two.
Then came the game changer. Jenna heard about Jim Caruso's Cast Party, an open mike event that happens every Monday night at Birdland. She became a regular. "I started meeting other cabaret singers and learning, seeing how they marketed their shows around what they needed to showcase," she said.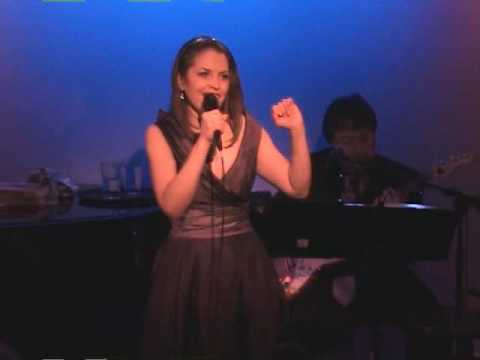 One Monday evening in 2008, Jenna sang what had become one of her favorites—-"Where the Boys Are," first made popular by Connie Francis. "I had been doing the song for years, but for some reason, that night, it hit," she said. "The place went wild. It was the right crowd at the right time. People stopped me afterwards and asked whether I had ever thought about doing a Connie Francis show."
Esposito ordered the box set of Connie Francis hits—more than 120 songs in all—and started doing research. She discovered that Francis had 35 Top 40 Hits and recorded in many different languages. "I fell in love with her doing the research," Jenna said. "She is such an amazing woman."
When Jenna found out that Francis was going to be performing in New Jersey, she and her father went to the show and stayed to see the singer autograph CDs and memorabilia in the lobby. After asking Francis to sign a T-shirt, Jenna gave her a letter telling her about the show. A few weeks later, Jenna was in Staples when her cellphone rang. Not recognizing the number, she let it go to voice mail. "When I played it, I heard `Hello, Jenna, this is Connie Francis.' I started shrieking in Staples." Jenna called her back. Francis thanked her for the letter and gave the show her blessing.
Jenna performed her Connie Francis show in June and July, 2009, at the Metropolitan Room. Although the show was recorded, it would be months before an actual CD was produced. Francis, however, though a series of connections, received a rough cut of Jenna's show and emailed congratulations. "Dear Jenna, You'll never know how delighted I was with the CD tribute to me…." Jenna recites the entire email, adding with a laugh, "Not that I've memorized it or anything!"
A short time later, Jenna was invited to Connie's show at Queens College, and to a dinner with the singer afterwards in Little Italy. Then, one evening, she was invited by friends to hear Tony DeSare at Bemelman's Bar in the Carlyle. "We're going to bring Connie," the friends told her. "Would you like to join us?" At the show, Tony invited Jenna to sing for Connie, and she sang "Who's Sorry Now." The first half of the performance "was a blur," but then she saw Connie clapping. "Afterwards, she gave me a hug and a kiss, took my hand and said, `Jenna, I love you.'"
Through Jenna, younger generations are discovering Connie Francis. "People remember her from Where the Boys Are and not much else," Jenna said. "After seeing my show, people tell me they are going to go out and buy a Connie Francis CD."
Chances are that Italian Undercover will have the same effect. Frankie Laine, for example, is a singer that younger people know little about. Through her research (Jenna's research is thorough and impressive), she found that Laine was a huge influence on Elvis. "I started to listen to his arrangements," she said. "He's the link between Bing Crosby and Elvis."
Besides her cabaret shows, Jenna hosts a Cast Party-like open mike night at Don't Tell Mama's the first and third Tuesdays every month from 9:15 p.m. to 11:15 p.m. Established performers as well as up-and-coming singers stop in to try out their acts and enjoy cookies that Jenna bakes herself. "They're Italian cookies and very popular," she said.
Jenna's Italian Undercover at Feinstein's is a family affair. Her father, Fortune Esposito, is the musical director and plays guitar, her sister, Kelly Esposito-Broelman, sings backup, her brother in-law, Kelly's husband, Rob Broelman, is on bass, and Brian Broelmann, who is Kelly's brother-in-law and Rob's brother, plays tenor sax, accordion, and mandolin. The non-family members include, Scott Morehouse on drums and Rob Langeder, backup vocals.
Jenna also plans to bring back To Connie…Love, Jenna, for the show's three-year anniversary in 2012. "It's still the show that's nearest and dearest to my heart," she said.
Jenna's career trajectory could be a case study on how to become a cabaret star. Talent, obviously, is the most important ingredient, but beyond that, necessary ingredients are family support, proper training, networking, research, and hours and hours of rehearsal. Each show needs a theme that will support a 60 to 90-minute performance including, besides the actual songs, a strong narrative to keep the audience engaged. And there must be passion for the music, something Jenna certainly demonstrates with her love for and connection with the songs she selects. Jenna's Connie Francis show hit all the right notes and from all indications, Italian Undercover will, too. Don't miss it.
Italian Undercover
Jenna Esposito
Feinstein's at Loews Regency
One performance only, January 11, 2012
212-339-4095
For more information and to buy To Connie, With Love, Jenna, go to Jenna Esposito's website.
Buy Amore: The Story of Italian American Song, by Mark Rotella on Amazon
Woman Around Town's Six Questions
Favorite Place to Eat: Patsy's Restaurant – Chef Sal Scognamillo is the best, and the food is amazing!  It's also very cool to dine at the same restaurant that has played host to so many incredible performers (including Frank Sinatra, Dean Martin, Rosemary Clooney, Tony Bennett, and Connie Francis, to name a few)!
Favorite Place to Shop: Sephora – I'm there all the time!  I love playing with all of the makeup, sparkles, and perfume!!  It's also a great place to touch hair and makeup up en route to a gig if I've forgotten anything!
Favorite New York Sight: Little Italy at Christmas time – they have the most beautiful decorations in the city, and it really gets me in the holiday spirit to just wander around down there!
Favorite New York Memory: Sharing the stage at Town Hall with such showbiz luminaries as Liza Minnelli, Chita Rivera, Lucie Arnaz, Marilyn Maye, and Larry Gatlin – truly a "pinch me" moment!
What You Love About New York: The hustle and bustle, and the wealth of entertainment options.  There is always something to do, someone to meet, or some new sight to see!  For a girl who can't stand to be bored, this is the place to be!
What You Hate About New York: Crowded subways at rush hour – especially in the summer!