I recently received a package of goodies from The Loveless Cafe. I know next to nothing about Southern cooking, but everything was so nicely packaged and so appealing, I was delighted. After all, as Paula Dean suggests, why not "put a little South in your mouth."
The Loveless Cafe is a Nashville, Tennessee tradition. It's been in operation on the outskirts of the city since 1951. Annie Loveless was famous for her biscuits and preserves. In 1979, Carol Fay Ellison, while still in high school, began working in the cafe as a dishwasher. In a real "42nd Street" twist, one day when the cook called in sick, Carol Fay took over. She'd been quietly watching and learning from the back of the kitchen. Today, her face is recognized as The Biscuit Lady, and when she passed away in 2010, a charitable fund was started in her honor. It's this kind of homespun tale that represents the personal touch for which The Loveless Cafe is known; for the past thirty years, the care and quality of shipped products has been lauded and guaranteed.
Since I have no delusions about my culinary abilities, I decided to ask some very capable friends to whip up a few of the offerings. Keeping my waistline firmly in mind, I've solicited the trusted opinions of my amateur food maven friends and family.
Not surprisingly, my husband volunteered to sample the preserves. The flavors are Old Fashioned Blackberry, Strawberry, and his favorite, Peach (each 16oz, for $8.75). They're still made with only two ingredients, fruit and sugar, and require hours of stirring before they're jarred.
Of course, the famous Loveless Cafe Biscuit Mix (2 lbs. for $4.95) had to be tried with the preserves. The directions suggest making them with buttermilk, and mixing with your hands. Another option for the biscuits is the golden Clover & Wildflower Honey (16 oz. for $5.95), which tastes just as good as it looks.While we're on a breakfast kick, what could be more fun than to whip up some Belgian Waffle and Pancake Mix (1 lb. for $5.95)? Of course if you do, the 100% pure Maple Syrup (12 fl.oz. for $9.95) is a necessity.
Where I come from, being called "Real Yankee" is a compliment, but it doesn't go far to teaching us much about grits. I called on a friend who went to school in North Carolina and who got to love this popular Southern staple. She advises that good grits are eaten with butter and salt, or cheese, or almost anything else you can think of. The White Corn Grits (2 lbs. for 6.95) I received were stone ground by water power at Falls Mills, in Belvidere, Tennessee. Built in 1873, it's now also a museum, and you can visit it to get a taste of how things were done back in the day. You can stay overnight in their Bed and Breakfast log cabin, too.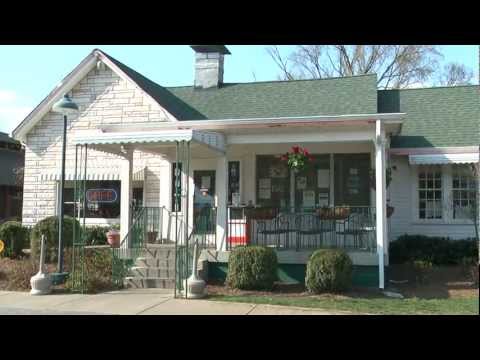 I've been told that the best thing to do with grits is to virtually drown them in real Sorghum Molasses (16 oz. for $5.95). While I'm not sure my palate- or my waistline- would appreciate this, I am looking forward to the molasses cookies my baking genius friend has promised.
Speaking of palates, I confess to finding the ham a bit salty for my taste. But my favorite Chinese cooking expert has assured me that both the Country Ham Biscuit Pieces (8 oz. for $5.95) and the lovely Center-Cut Country Ham (12 oz. for $11.95) are excellent for Asian cooking, and ideal for stir-fry. I've never found a bacon I didn't like, and the Applewood Smoked Country Bacon (16 oz. for $9.95) is no exception. An added bonus is that the dry cured method reduces cooking shrinkage. All of the products are safely shipped without the need for refrigeration.
A must-have for all us cookbook collectors is the unique and homey "Desserts From The Famous Loveless Cafe." It's filled with foolproof tricks and tips, and boasts recipes for one hundred of the most luscious pies, cobblers, cakes, and cookies you can imagine.
With the holidays coming up, the question always arises "What can I get for someone who has everything?" I'm suggesting you check out the gift boxes available from the Loveless Cafe, and include a not-so-subtle hint that you'd like to be invited over to try the Southern treats they contain.
The Loveless Cafe
8400 Hwy 100, Nashville, Tn. 37221
1-800-889-2432
www.lovelesscafe.com
Please note: prices are subject to change.
Michall Jeffers is an accomplished Cultural Journalist, and an unrepentant Foodie. She writes extensively about restaurants and food, both in print and online. Her eponymous cable TV show is syndicated throughout the NYC tri-state area, and features celebrity interviews, reviews, and commentary. www.michalljeffers.com