As a high school student in New Jersey, Alyssa Campanella was the target of bullies. "I was the type of girl who always had her nose in the books, preferred studying hard for class, never went to high school parties, and was an avid member of the drama club," she explained. "So, of course, I was the girl that was picked on."
Entering a beauty pageant was the furthest thing from Alyssa's mind. But one day she received a letter in the mail inviting her to compete for the title of Miss Teen New Jersey. "I was having a tough time trying to fit in with the right crowd," she said, "so when I got that letter in the mail, my mother said do you want to try this?" Alyssa did some research on the pageant and decided she would like to meet girls from other parts of New Jersey. "I gave it a shot," she said. "And I ended up winning."
Alyssa narrowly missed being crowned Miss Teen USA, finishing first runner up, but the second time around proved to be the charm. On June 19, Alyssa was crowned Miss USA and will go on to compete for the title of Miss Universe in September in Brazil.
Although Alyssa won the Miss USA title competing as Miss California, her roots are on the East Coast. Graduating from high school a year early, Alyssa moved to New York in 2007 when she was 17 years-old, working as a model and attending an acting conservatory. "I first lived in Brooklyn Heights, which I absolutely loved, and then I lived on the Upper East Side," she said. Her parents supported the move. "They know that the industry is all about being young, fresh, and hip," said Alyssa. "But they told me I would have to be responsible for myself. I understood that part and that's what I did."
As Alyssa travels around the country as Miss USA, her example, surviving the slings and arrows of high school, may prove inspiring to other young people. Looking back, she conceded that her own special style probably made her a target. "I liked dressing up like my mom," she said. "I liked to wear her kind of jeans. I liked to wear blouses and I wore glasses. I was the typical little geek." At the same time, Alyssa said she also loved to dress up and wear makeup. "I was still a girly-girl, but a geeky girly-girl."
Resembling a page taken from the Fox-TV hit, Glee, Alyssa and her fellow geeks found a safe haven in performing. "The drama club was actually my home in high school," she said. "All of us were picked on for being in the drama club. They were all my friends and we all stuck together. Every single day after school we were working on productions." While the school's Thespians were labeled "nerds," they earned a modicum of respect from the other students for their "cool productions."
Landing a starring role in her school's production of The Outsiders, Alyssa also discovered another part of her personality. She agreed to dye her blonde hair red for her character, Cherry Valance, and found the change suited her. "It just fits my personality so much better," she said. "It really brings out the outgoing, fiery side of me."
That side of Alyssa obviously captured the attention of the Miss USA judges, including Tyson Chandler, center for the Dallas Mavericks and 2011 NBA Champion; Rocco DiSpirito, celebrity chef; Mariel Hemingway, actress; Penn Jillette of Penn & Teller; and Lil Jon, rapper.
Alyssa never lost her love for reading—her L.A. apartment is filled with history books. "I'm a huge European history fanatic and I've never been to Europe," she said. "So if my travels take me to Europe, I will be ecstatic to finally see it all. I want to look at all the architecture, see it all for real."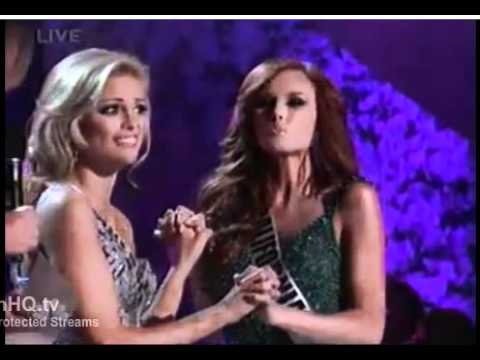 Alyssa's family—her parents and sister—remain her biggest fans. They all traveled to Las Vegas to watch her compete for the Miss USA crown. "Everyone flocked to Vegas to support me," she said. "They didn't care if I won or not. But of course when I won they were going absolutely nuts." (The TV broadcast captured Alyssa's mother's reaction).
The worst part of the pageant? Wearing heels every single day. "It's pretty tough because it begins to affect, not only your feet, but also your back and then you're crying in pain," she said.
After winning the title, Alyssa was "whisked off to New York," to meet the media. After her year-long reign comes to an end, Alyssa hopes to work in the entertainment industry. "I would love to continue my career as a model," she said. "I would love, hopefully, someday to land on the big screen."
She expects the next year will be one of "personal growth," where she will learn a lot about other people and also about herself. "I'll be going around the country and then, hopefully, around the world promoting different charities," she said. "A year from today, I will not be the same girl who is sitting with you here today."