As a local, I see the Washington Monument daily, and I rarely bat an eye when I catch a glimpse of the Capitol dome. I can point out a tourist a mile away from the maps in their hands, the young kids in tow, the fanny packs, and standing on the left side of the metro escalator. People who live here tend to take the monuments and the fact that we live in a gorgeous city for granted. But with the weather warming up and the cherry blossoms blooming, I decided to see the city in a different way. By bike.
Arlington County recently put in a bike share around the city called Capital Bikeshare. Capital Bikeshare puts 1,100 rentable bikes at 110 locations around the city. To use this service, you must be a member, but it's easy to join. You have the option of joining for 24 hours ($5), 30 days ($25), or a year ($50). You can become a member for 24 hours simply by visiting one of the kiosks in your area, but you must sign up online to become a member for longer. After you pay the membership fee, the bike can be removed from the bike dock. The first 30 minutes of your ride is free, and then you pay fees for each 30 minutes after that. This might not seem like enough time to tour the monuments, but riding a bike from Crystal City to the National Mall takes about 15 minutes on the Mount Vernon Trail. Information on the bike share and its station locations can be found on its homepage.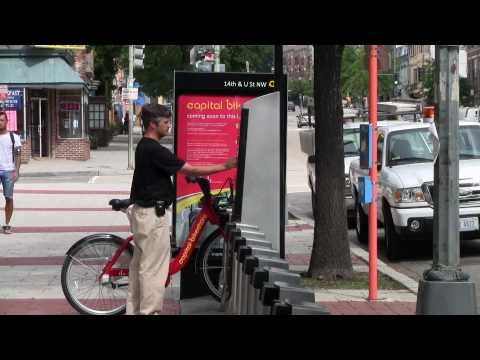 Getting the bikes out of the bike docks and getting on your way is surprisingly easy and pain-free. My boyfriend and I found a stop within a block of my apartment complex, paid the membership fee, and were heading to the trail in a matter of minutes.
We rode to the Mt. Vernon Trail entrance and cruised onto the path. On a nice day, the trail is packed with bikers and joggers, from serious cyclists with $2,000 bikes to new bikers sporting bike share rentals. Compared to the top of the line bikes out there, these bikes are not cute. They aren't sleek, they don't go very fast, and they only have 3 speeds. But, their unique frame and bright red paint make you stand out on the trail. Other bike share members smile, nod, and ask you if this is your first time, almost like you've instantly become a member of a secret club. People who would probably ignore you on the trails (this is D.C. after all) ask you how you're doing and if you could direct them to the nearest bike dock.
I took the Mount Vernon Trail that runs from the Mount Vernon estate in Alexandria to Washington, DC and rode across the Potomac River into the city. It felt refreshing to get away from the metro, get away from the notoriously awful traffic, and get some exercise. I stopped and saw things I may have never seen by car. I watched a plane fly right over my head and land at National Airport while standing by the water at Gravelly Point. I heard fish jump from the water of the Potomac and rode in front of the White House while a Secret Service agent eyed me suspiciously.
There are tons of trails around DC that will take you to the National Mall, Georgetown, Old Town Alexandria, or down the Potomac River. Wherever you want to go, there is probably a trail that can take you there. Trails.com (easy enough to remember) can direct you to trails in your area or you can grab a bike map of DC and its surrounding counties to map out your ride. Because of this experience and the fact that gas hit a national average of $3.55, I mapped a route trail that I could take to work and began using my own bike to commute.
Who knows? Maybe you'll discover something new about your city or experience it from a new angle.
When using the trails, take the time to enjoy the day and let loose, but please be careful. Stick to well traveled routes, don't ride at night, and ride with a partner whenever possible.