Don't let your past define your future…take responsibility for your finances…make money doing something you love…reclaim your happiness.
These were just some of the messages delivered at the Get RADICAL Women's Conference hosted by Doreen Rainey held recently at the Renaissance Hotel in Washington, D.C.  The annual three-day event seeks to empower women to be their true selves. The conference began with a Meet & Greet Reception on Friday, an all-day conference on Saturday that featured female celebrity speakers and a RADICAL Women Award ceremony, and ended on Sunday with a R.A.D.I.C.A.L Success Workshop with host and life coach, Doreen Rainey.
With the slogan "Get Bold, Get Courageous, Get RADICAL!", this conference is not your typical Yes Man scene from the Jim Carrey movie. Every element—from musical talent to wonderfully prepared food to mind-blowing speakers—was well thought out and served to stimulate the senses.
This conference, in its third year, has grown since its inception in 2009. This year's attendee list included women from across the United States, Canada and the Virgin Islands. The cost of the main event, which occurs on the last Saturday of March every year, was $249 and can be paid in installments. This price covered two people for the "bring a friend for free promotion," a conference welcome kit, and a free one-year membership to the RADICAL Success Institute. The membership consists of monthly coaching calls and newsletters. There are numerous add-on events that can be purchased as well, ranging from $40 to $75, including breakfast or lunch with some of the celebrity speakers, declaration and award ceremony, and the R.A.D.I.C.A.L Success Workshop.
This year's Get RADICAL Women's conference had six segments entitled: Fearless Living, A Purse of Your Own, Step-Up-Now! , Loving Yourself (And your body), The Guts to Go For It, and Leapfrog Your Life.
The first speaker, Rhonda Britten, of Starting Over, a life coach program with Iyanla Vanzant, spoke about what it means to live fearlessly. She touched the audience by sharing her traumatic childhood, witnessing the murder of her mother and the subsequent suicide of her father and how it affected her throughout her life. She was a great example that your past does not have to define your future and that to get what you want out of life, you have to work and fight for it.
Next up was financial expert and advisor, Deborah Owens, who walked out on stage to Ne-Yo's "She Got Her Own" song. The song speaks about wanting a woman who is financially independent, and this is what Deborah promotes in her segment and like-titled book, A Purse of Your Own. Deborah explains that wealthy women live and think differently than their middle class counterparts and in order to obtain wealth, women have to take responsibility for their own finances, married or not.
Ali Brown, recent star guest on Secret Millionaire, spoke about entrepreneurship and realizing when and how to start. Having trouble making ends meet, she began her startup in her New York apartment. When she realized she could make money doing something she loved on her own time, she quit her job and threw all of her energy into growing her business. She now runs a multimillion-dollar company specializing in business and growth strategies.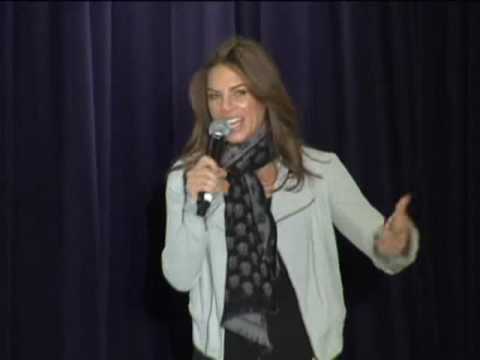 Jillian Michaels, of the popular NBC show The Biggest Loser, talked about being "your authentic self" and claiming your happiness. Although Jillian is a physical health expert, much of her segment also focused on mental health. Her slick tongue and blunt comments empowered women to get up and take responsibility for their current and future position in lives by being more proactive.
Niecy Nash was the last celebrity speaker that day and perhaps the most inspiring. Niecy taught audience members to identify and use their gifts to the best of their ability. She shared how comedy brought her mother back to life after the murder of her brother years ago. After realizing comedy was her gift, she used it to her advantage and has been successful in her roles as host of Clean House, an actress on Reno 911 and appearances in several other television sitcoms.
Doreen Rainey closed the conference with her Leapfrog Your Life segment where she discussed the Get RADICAL Movement. There are various programs customized for a woman's personal and professional life. There are two main coaching programs available, the Life Compass Track, for improving your personal life, and the Entrepreneur track, for starting and enhancing your own business.
To learn more about the Get RADICAL coaching method or the Women's Conference, visit www.getradicalconference.com and www.doreenrainey.com.