Why not? Why not secure the rights for an award-winning children's book from publishing giant Simon and Schuster, convert the book into an animated film, entice big names to sign on, then pick up your kids from school, throw in a load of laundry, and heat up some frozen fish sticks with a side of steamed broccoli as dinner for the kids? Well, that's exactly what I did.
Reluctant for years to share my story, which I still believe is a non-story, folks have finally convinced me that other stay-at-home moms—who undoubtedly have a litany of ideas for books, clothing, gadgets, or yes, even for DVDs— might indeed enjoy my little-luck-filled-journey. So rather than being selfish and continuously self-deprecating, I acquiesced and I am sharing my WHY NOT philosophy with you.
Somewhere between 2002 or 2003—I can't remember because I have mommy brain—but what I  DO remember was that my then two year old daughter, Grace, was a pre-schooler. As a new mommy, my backbone on opinions were remarkably intact. New-mommy-ness often conjures up enormous amounts of uncertainty. I was able to stand firm and not surrender to the relentless bombardment of  unsolicited parenting advice from strangers, family, and friends. Yes. I dared to opt NOT to subscribe to the unwritten rule of "Do Not Allow Your Children To Watch TV." Hence, my guilt-free watching of an episode of Reading Rainbow with my daughter. The episode featured an award winning children's book that I had never heard of, but because it was narrated by Gregory Hines, it peaked my interest. Long story short, I fell in love with the book! I immediately went to my neighborhood Barnes and Noble, bought several copies of the book, Zin!Zin!Zin! A Violin by Lloyd Moss and promptly added it to the ten plus books I read my daughter nightly. And so began the Why Not thinking….for THIS particular project anyway…
My downtime at that time involved two to three hour lingerings through the children's section at Barnes and Noble on Broadway and 82nd Street, so I could buy MORE books for my daughter. Relatively new to this mommy-world, I improved on my deep noticing skills and observed how publishing companies elongated the life of any book, through the magic of merchandising–a book with matching socks or matching night-light, T-Shirts, pajamas etc. Ideas began to percolate in my head. I could do that, too. I could put images from the Zin! Zin! Zin! book on clothing or create puzzles. I, too, could do merchandising. Why Not?
What to do? Where to begin? I needed to bounce this idea off of folks who could help me shape my caffeinated thinking. I decided to Google the author of the book, Lloyd Moss, and learned that he was currently the host of a longstanding and reputable classical radio show on the then New York Times Radio Station, WQXR. "Why not?" was my thinking, as I left a message for Mr. Moss. Success! He called me back five minutes later! I've been accused of being impatient, so to bolster that accusation, during that initial phone call, I  set up a meeting with Mr. Moss and we met a few days later. During that meeting, I learned that Marvin Hamlisch had composed music to accompany this book that I loved. This composition premiered at Alice Tully Hall at Lincoln Center! Not having a real clue as to what I wanted, I  asked Moss for Marvin's Hamlisch's number and I left messages on Mr. Hamlisch's home phone and his cell phone. Again, he too promptly called me back! No, I made no offer of money or any unsavory promises (get your mind out of the gutter ladies
We set up a breakfast meeting at a diner near his NYC apartment. By the time I eventually met with Mr. Hamlisch, the project had morphed into a game and animated DVD (thanks to Evan Davis)… Long story short, Hamlisch loved my new idea. People find it rather ballsy of me to call up, DIRECTLY, both the author of the book AND the Oscar, Grammy, Pulitzer, Tony and Golden Globe winner myself. My thinking was this: both men could think I was a nobody and shoo me off the phone, and, if they did, so what? A rejection from either would never mean that blood would flow profusely from me or my child. It would never mean bones would be broken on me or my child, and it would never mean myself or my child would shrivel up and die. All it would mean is just what MIGHT be said. "NO!" and luckily for me, I got a "YES!"
So, what was my idea that Mr. Moss and Mr. Hamlisch loved? The book, Zin!Zin!Zin! A Violin, through rhythmic rhyme and brief content—because children have short attention spans—the book introduces children to ten different musical instruments, music terminology and the musicians who range in age, gender and ethnicity. I decided to marry two opposing musical genres, classical and jazz and demonstrate that musical instruments are not genre specific. Animation allowed the book to jump off the page and afford the viewer the opportunity to HEAR what each instrument sounds like.
The jazz part of the story is just as luck-filled. Columnist Stanley Crouch is a respected jazz historian. My Why-Not philosophy prompted me to find Mr. Crouch's email address on his newspaper website, and yes, I emailed him. I explained what I was doing and was eager to get feedback on crucial jazz elements he felt children must know. Two days later, yes…Mr. Crouch called me on my phone and offered to set up a meeting with Wynton Marsalis. And that's how I landed the then jazz professor at the Juilliard School, world famous trombone player, Wycliffe Gordon. ( Wycliffe performs the theme song for NPR's All Things Considered). Ridiculously fantastical you might say. A lie! I kid you not. This is EXACTLY how it happened.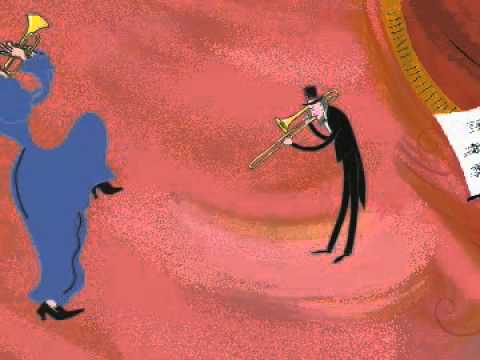 Oh, did I mention that Angela Lansbury narrated the DVD? Maybe someone wants to hear THAT story sometime…
The DVD is finished. It's called Zin! Zin! Zin! A Violin- A Classical and Jazz Journey. Students from The Juilliard School and from the Manhattan School of Music performed on the DVD. Disney and Nickleodeon animators did the animation. Ladies, it can be done.
Again, for the many who erroneously and smugly think that us stay-home-moms twiddle our thumbs all day, stuff our faces with bon-bons while we lounge on the couch, scratching and watching soap operas, I'm proof that you are gravely mistaken. There is nothing particularly unique about me. I have no background in production, publishing, film, animation or music. What's even funnier is that I don't even play an instrument! I simply had an idea, bounced it off of some folks and enticed some big names to sign on. All because of my Why Not philosophy.
Why not use the WHY NOT philosophy today. Email me YOUR Why-Not story today at whynotlikelisa@gmail.com C'mon! Why not?
Buy  on Amazon Zin! Zin! Zin! A Violin- A Classical and Jazz Journey