As parents we struggle with our kids spending time online. Many parents dole out computer time just as we do TV time for a multitude of reasons. We worry that time in front of the computer is isolating and that our kids will be exposed to values that are not in line with our family values. In direct conflict with these concerns are recent studies that suggest playing online games provides improvements in hand/eye coordination, problem solving and typing skills. In addition to basic education elements, these surveys go on to suggest that video games are teaching children to think strategically since the majority of video games require players to follow rules, think tactically, make fast decisions and fulfill numerous objectives to win.
It certainly puts forth a compelling argument but even if these surveys aren't self-serving and telling us what we want to hear in order to assuage parental guilt, how much do we really want our kids sitting in front of a computer screen? My husband and I are careful to limit the amount of time that our daughter spends playing online games, no matter how educational, because we want her being active, social and to be able to create her own fun.
This summer a friend told me about a new game she had discovered called Tinkatolli that they were Beta testing and had contributed to through Kickstarter. I looked it up when I got home and discovered something completely new. Tinkatolli is a unique combination of online and offline game play. Each player creates a Tinka – the character that they will use to move through the virtual world of Tinkatolli. Designed to get kids involved on a number of different levels the game encourages players to Make, Think, Move and Give. Each player is given an online scrapbook where they can record their activities in each area and upload pictures of their creations.
Make rewards creativity, kids create physical objects and upload photos of their creations to share with the rest of the community.
Think gives them points for everything from doing their homework to day dreaming and philosophizing because "sometimes thinking is the biggest part of tinkering."
Move gets kids to do just that – I personally love watching my daughter get up to do push ups and jumping jacks and see if she can beat her last score.
And then there is Give – Give encourages kids to see that giving is as rewarding as getting. Giving is an important part of Tinkatolli, and many players seem eager to help others with gifts or guidance.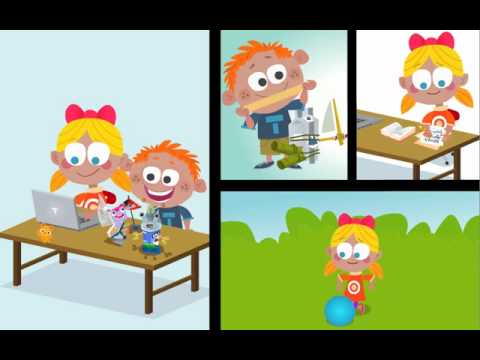 A dedicated team of people in Denmark has carefully thought out the lessons involved in all of these: Kevin McLean, Luke Séguin-Magee and Pennie Sølbeck. Parents themselves, its no wonder that the philosophy behind Tinkatolli is so easy for parents to embrace and that the game play is so irresistible for kids. For the time that your children do spend online, however much it is, Tinkatolli is enriching, stimulating, creative and fun and we have enthusiastically connected many of our friends to it.
The Tinkatolli team was gracious enough to take some time out of their impossibly busy schedules to answer some questions for me about this wonderful virtual world.
Who is the team behind Tinkatolli?
Tinkatolli has three founders: Kevin McLean, Luke Séguin-Magee and myself – Pennie Sølbeck. Combined, we have over 20 years of experience creating engaging interactive productions. We are also all parents: Kevin has three; Luke has four; and I have two – with one on the way.
We have one employee, Konrad Bajtyngier who is our very talented software developer, and finally we have the occasional intern. We are an impossibly tiny team, who has reached where we are now through sheer stubbornness and hard work, driven by a deep passion and belief in what we are creating.
What was the inspiration for the game?
We really felt there was something missing in the market of online entertainment for kids. Specifically, a virtual world that would actually tie in traditional offline play with the online experience. Essentially our battles with our own children to get them off the computer when their screen time was over, was a big part of the inspiration for Tinkatolli. We wanted to build a virtual world that was packed with features, super fun and added real value to their time spent online, but would also encourage kids to do more than just sit in front of the computer. It had to have a strong emphasis on fostering creativity in children, something we know is an essential skill for the future, and we loved the idea of using the game to inspire kids (even require them) to get ahead in the game by doing offline activities.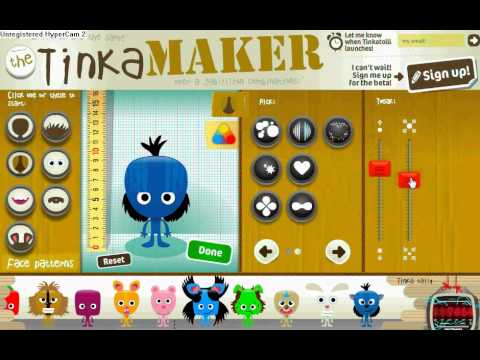 What are some of your favorite parts of the game?
I am especially excited about the way that Tinkatolli allows kids to express their creativity so freely. There are a lot of examples of this in the game, but I'll highlight two.
The "Tinka Maker" where children make their avatar (a Tinka, which is their online character), is the first thing players engage with as a part of the game. We designed the Tinka Maker to have endless possibilities for Tinka customization, and it has resulted in the children's Tinkas being just as unique and recognizable as the kids themselves are. We are constantly impressed and even surprised with the kid's results – sometimes we even have a hard time working out how certain Tinkas were made.
Another aspect of the game that really allows each child's imagination to shine through is creating stuff offline – away from the computer. We like to inspire them to design and build items, anything from furniture to vehicles for their Tinkas, out of household junk. They can upload their creations to the game and have them voted on by other players. Each week a winning creation is drawn into the world as a virtual item, and made available for everyone to build for their Tinka.
The combination of online and offline activities is wonderful – how much offline activity do you see users writing about?
Many players write in their in-game scrapbooks every single day. It is really inspirational to see what sort of stuff they write about, and to know that it contributes to their awareness of finding a balance in their lives. For example, here are few quotes from different player's scrapbooks:
"Rode my bike to the park and ran around with my friends"
"I made my Tinka out of dough."
"Finished my chemistry revision booklet."
"I was extremely nice to a new girl in my class"
You might notice that each of the above quotes have to do with a different type of activity. That is no accident. We have intentionally divided the Scrapbook up into 4 different sections Make, Move, Think and Give. We try to motivate kids to be active in these 4 areas, because we think they are important to a well-rounded childhood.  Make could be anything from drawing a picture, baking a cake or building a Tinka bicycle out of junk (we are very open in terms of how they are creative). For Move we've seen kids write about walking the dog, playing a sport, climbing a tree.  Think could be doing homework, thinking up a poem, or even just recording a thought.  Give covers things from giving mom a hug to helping dad with the dishes – one player just wrote about how he took care of his younger sister while his mom went to the store.
When we started with a scrapbook it was very much and experiment, but we have been thrilled at how players have taken to it and even asked to create a version they could write in when they aren't in the game.
How many players do you have currently and how many Beta testers were there?
We only recently moved into Open Beta (Sept. 30) but we already have several thousand active players from over 100 countries. The bulk of our players so far are from the US, the UK, Australia and Canada.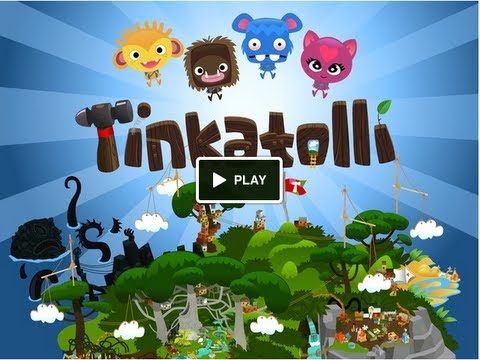 How successful was your Kickstarter campaign?
Kickstarter was very successful for us, and not only in the way we had anticipated. We reached our financial goal, sure, but the unexpected and really wonderful benefit of the campaign was the number of people who truly became enthusiastic backers of the project. Many people saw something special in Tinkatolli, and we got so much positive feedback, especially from parents, who really understood the game and what our intentions were with developing it. All in all it was a very encouraging experience.
What do you see in the future for Tinkatolli? Any real world events?
One thing about a membership based virtual world is that the development never stops, and we actually think that is just great. We are creators at heart, and our ideas pile up a lot faster than we can implement them. We have many plans to expand the online/offline play integration by using both cutting edge technology and "old fashioned" methods.
What other insights can you share with us about the future of games for kids – is the link between education and games a strong trend?
There is no doubt that gaming and education can be a very a positive combination and will continue to be the way of the future, as learning through fun is a very effective way of teaching. These types of games are certainly becoming more common on the market, and parents are increasingly discerning in terms of how their children spend their time online.
The problem is that games often fall into the trap of unwittingly sacrificing fun for education, which in our opinion really diminishes the learning value of the game. We prioritize fun as a condition of everything we implement into Tinkatolli, and the focus on creativity means that we always strive to provide children with the tools for flexible and open-ended play.
Anything else you would like us to know about Tinkatolli – how long it took to develop, partners, etc.
We have a strong emphasis on safety in Tinkatolli, have strict rules about behavior and we monitor the world very closely. There are parent controls available; bad word filters and icon-only chat for the younger kids, report buttons, as well as locks on the scrapbooks. It is extremely important for us to keep Tinkatolli a secure, positive and happy place to be, where children (and their parents) know they can play safely.
For more information, go to the website Tinkatolli or email Pennie Sølbeck