42 – The Jackie Robinson Story
Finally a Film Worthy of a Hero
42 is a love story.
It's the story of two men who loved baseball and a man who loved a woman he was lucky enough to marry.
Jackie Robinson's battle to overcome racism as the first black player in Major League Baseball has been well documented, but never in such a visceral way as in this film directed by Brian Helgeland. It's one thing to talk about the racism that Robinson felt on and off the field, quite another to see those encounters vividly dramatized, bringing home the humiliation, frustration, and, at times, fear experienced by Robinson and his wife, Rachel.
Yet those horrific scenes are juxtaposed with others displaying the incredible bond that existed between Robinson (Chadwick Boseman) and Rachel, played by Nicole Behaire. Theirs was a true love story and, it's probably safe to say, Robinson's struggles would have been even more difficult without this strong woman by his side.
As the film opens, World War II is over, and soldiers are coming home. Although black Americans served valiantly on the battlefield, they returned to a society lacking for them those basic freedoms they fought for. We see "White Only" bathrooms and "colored" gates at the baseball parks. Major League Baseball is an all white game, black players segregated in the Negro League.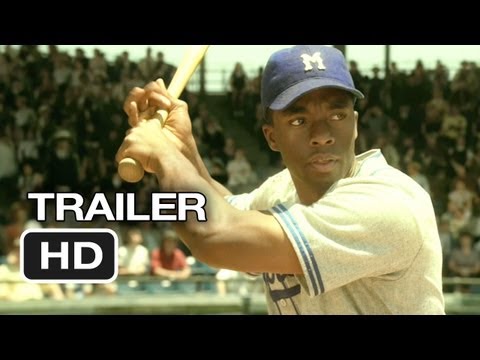 In 1945, Brooklyn Dodger General Manager Branch Rickey (Harrison Ford) is a shrewd businessman who sees that times are changing and that baseball needs to change, too. "I'm going to bring a Negro ballplayer to the Brooklyn Dodgers," Rickey says, prompting his assistant, Harold Parrott (T.R. Knight), to respond: "Have you lost your mind?" Baseball, Rickey points out, is a business and teams make money when fans come to the ball park. "Dollars aren't black or white," he says. "They're green."
Rickey follows through on his plan, zeroing in on Jackie Robinson, a young African-American shortstop playing for the Negro League's Kansas City Monarchs. "He's a Methodist, I'm a Methodist, God's a Methodist; go get him," he instructs Parrott.
Harrison Ford who created the iconic characters Han Solo and Indiana Jones hasn't had a role this meaty for years; he makes the most of it, barking out orders and opinions with a raspy voice while chomping on a cigar. Rickey's savvy enough to realize that Robinson's success as the first African-American to play in the major leagues will only work if he can keep his temper under control. "You want a player who has the guts to fight back?" Robinson asks him. "No," Rickey tells him, "I want a player who has the guts not to fight back."
Rickey enlists Wendell Smith (Andre Holland), an African-American sports writer, to watch over and prep Robinson for interviews. (Smith is not allowed in the all white press box and so sits in the stands to write his stories, typewriter on his lap.) Reporting for spring training in Daytona Beach, Florida, Smith takes Jackie and Rachel to the private home of a local black politician rather than to the hotel where the rest of the team will be staying. Even those arrangements prove to be unsafe, and Smith drives Robinson away in the middle of the night to avoid an attack by locals.
Bigger battles await on the field. Robinson starts out in Brooklyn's International League farm club, the Montreal Royals, and in his debut plays an exhibition game against the parent team, the Dodgers. Playing against the teammates he will soon lead, Robinson has his first taste of the opposition. Pitcher Kirby Higby (Brad Beyer) taunts Robinson from the mound. Robinson gets the best of that exchange, however, walking, then stealing second, third, and coming home for the run. That victory only makes it harder to win over his future teammates who start a petition saying they won't play with him on the team.
Rickey will have none of that, telling Manager Leo Durocher (Christopher Meloni) to get the players in line. Durocher (he wasn't called "Leo the Lip" for nothing) assembles the team in the middle of the night and reads them the riot act. "I don't care if the guy is yellow or black or has stripes like a zebra. I'm the manager of the team and I say he plays."
Robinson earns a place on the team but rather than at shortstop, must play first base. He works tirelessly with one of the coaches learning to field his new position, not an easy task. A few of the players are encouraging, Pee Wee Reese (Lucas Black) who puts his arm around Robinson, quieting a jeering crowd in Cincinnati, and Ralph Branca (Hamish Linklater) who has a funny exchange with Robinson when he encourages him to shower with the team.
Rickey knows that public opinion will soon tilt in Robinson's favor once they see for themselves the vitriol being hurled at him, not to mention being struck in the head with a pitch and spiked purposely by an opposing player. Phillies Manager Ben Chapman (Alan Tudyk) keeps up a steady stream of racial epithets (these scenes are jarring), even provoking one of Robinson's teammates to jump out of the dugout to protest. Robinson holds it in on the field, but retires to the clubhouse slamming his bat against the wall. Rickey convinces him to stay. The Dodgers, buoyed by Robinson's play, win the pennant.
Boseman was an inspired choice to play Robinson. A relative unknown (he's appeared in a few sleeper films but nothing mainstream), we have no trouble embracing him as Robinson. He displays the grace and skill of a gifted athlete and his million dollar smile lights up the screen. There's considerable chemistry between him and his costar, Nichole Behaire. There's a touching scene in the hospital nursery when Robinson confesses that he never knew his own father but tells his newborn son, "You will remember me." An understatement given what we know now of Robinson's legacy. This film is a fitting tribute.
Joel Ward, the Washington Capitals' forward, hosted a special screening of the film on April 10 attended by many of his team members. Ward, who described himself as a West Indian Canadian, said that he wears the Capitals' jersey number 42 in honor of Robinson's contributions to sports, society, and the Civil Rights movement. As a black athlete playing ice hockey, a predominantly white sport, Ward said he understood the challenges faced by Robinson. Ward, in his first year with the Capitals last year,  scored the game-winning overtime goal in Game 7 of the Eastern Conference Quarterfinals to help the Capitals advance past the defending Stanley Cup champion Boston Bruins.
Read our interview with Jackie Robinson's daughter, Sharon, about the film and her father.
42 opens nationwide April 12, 2013.