Henrik Ibsen's 1882 rage against the irrational tendencies of a populous he viewed as lemmings and governing bodies whose morality is filled with self-justifying corruption has never seemed more contemporary. A terrific adaptation by Rebecca Lenkiewicz removes historical distance placing the morphing nature of truth front and center in this, an election year. Though Ibsen acknowledged his churning portrayal borders on farce, its characters are all too familiar.
Dr. Thomas Stockmann (Boyd Gaines) has returned to the coastal town in which he was born under the benevolent sponsorship of his older brother Peter, the Mayor (Richard Thomas). The siblings have always had a fraught, highly competitive relationship. Thomas is idealistic, intellectual, and expansive, free with his beliefs and his hospitality. Peter is pompous, opportunistic and repressed. The small community is supported by development of spa baths initiated by either Thomas or Peter depending on whom one believes and now run by a committee.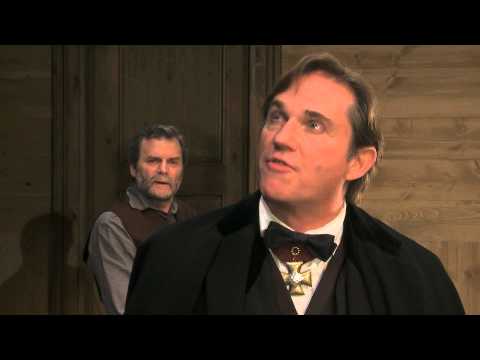 Ostensibly like-minded, liberal thinkers: Hovstad, editor of The Peoples' Messenger (John Procaccino), Billing, a sub editor (James Waterston), and Aslaksen, the printer (Gerry Bamman) are gathered at Thomas' home when their host receives an important letter. Concerned by "an inordinate number of typhoid cases manifested by visitors," Thomas has sent water samples to a local university to be scientifically analyzed. "News! Incredible news!" he declares, "the baths are contaminated death traps, dangerous to wash in let alone drink." The naïve glee one hears in his voice is that of pride at having made a discovery that will save the town he loves.
"You'll be the man of the hour!" his friends cry. Avowed revolutionaries, the group plans to use the situation to unseat those who are rich and powerful. Hovstad wants to print the report, Aslaksen, promising the support of tradesmen, to picket. The mayor, however, is predictably aghast. Citing a cost of several hundred thousand crowns and years without functioning baths for income, he dismisses the laying of new pipes as "crippling" and insists on suppression of the report. Compromise is clearly not an option. Thomas is genuinely shocked. Truth, honor, safety and his own integrity demand the opposite action.
Peter threatens. All insurrectionist support vanishes when the stealthy, Machiavellian mayor points out it's tax payers who will be responsible for the cost of the undertaking, not, as they assumed, the owners of the facilities. Ring a bell? Dominos crash against one another with deafening sound as the high minded doctor is undone by his unshakeable convictions. Populist opinion is easily manipulated. Voices are raised, accusations levied, tables mounted, windows broken. Personal agendas don't cease to appear even after denouement. One is particularly surprising. The drama makes one want to take to the streets. Wall Street anyone?
This is a powerful, idiomatic interpretation of Ibsen's play coupled with a robust and effective production. That ancillary characters are never really defined but rather lumped together as a pervasive mode of thought and behavior, appears to be a singular, conscious choice.The piece evokes both apoplexy and food for thought.
Boyd Gaines (Dr. Thomas Stockmann) is robust in portrayal sinking his teeth into the classical role with full commitment. The depth of his character's obtuse beliefs is as unquestionable as his trajectory; his initial buoyant innocence as credible as his full-tilt fury. Gaines moves with motivation, seethes between speeches, and skillfully reflects emotional wounds without overacting.
Richard Thomas (Mayor Peter Stockmann) wears the mantle of the mayor's grandiosity with complete certitude as he insidiously affects everything. Astutely playing the role with restraint, Thomas makes it almost Satanic. His patrician bearing and unflinching gaze contribute amply to characterization as does the even tone of his speech and its impeccable phrasing.
Supporting players are able with particularly effective turns by both the aforementioned John Procaccino whose editor is positively oily and Maite Alina's whose Petra (Thomas's daughter) is a believable spitfire repressed by her era.
Director Doug Hughes gives us a skillfully paced tale with well placed fireworks. The first act is so immersive, it goes by in a blink. Leads are fully fleshed out. Turncoats repulse. Use of the set is never less than visually interesting in service of the story. Staging of the town meeting -tantamount to verbal lynching- is convulsive and visceral. Resignation is not allowed entrance.
John Lee Beatty's Set is specific and appealing. Rooms are appropriately "constructed" of pale, grainy wood and somewhat Spartan. Moving from room to room on a turntable is further reflection of the fluid alternation of beliefs. Characters already occupy each new set. The partial scrim hanging from a raw beam suspended downstage moves from one side to the other as scenes change.
Buy discount tickets to Enemy of the People at Goldstar.
Photos by Joan Marcus
1. Kathleen McNenny, Richard Thomas Boyd Gaines
2. James Waterson, John Procaccino, Boyd Gaines
3. Kathleen McNenny, Randall Newsome, Maite Alina, Richard Thomas, Boyd Gaines, Gerry Bamman, James Waterson, John Procaccino
An Enemy of the People by Henrik Ibsen
A New Version by Rebecca Lenkiewicz
Featurung Boyd Gaines, Richard Thomas
Directed by Doug Hughes
Manhattan Theater Club's Samuel J. Friedman Theater
261 West 47th Street
212-239-6200 or www.telecharge.com
Through November 11, 2012