Animals distract Isabella Rossellini. Also, the environment, evolution, filmmaking, acting, studying, and guilt-free meals (amongst other things) distract Isabella Rossellini. Dogs, cats, chickens, pigs, birds, rhinos, orangutans, sharks, and butterflies figure into the distracting mix but mostly, at the moment, it's dogs.
The Earth Day premiere of the film, Animals Distract Me, at The Paley Center last Thursday evening featured a screening of the film and a panel discussion with filmmaker/actor Isabella Rossellini, Chef Mario Batali, former Vogue editor Andre Leon Talley, and frisky guide dog Gracie (aka "Sweetie") who overturned a table of water glasses in her excitement to reunite with her former trainer. Gracie, who appeared in the film, received her initial guide dog training from Rossellini, who volunteers with The Guide Dog Foundation. The Planet Green premiere of the film aired on Saturday evening.
Animals Distract Me is Rossellini's latest documentary on the animal world and a rich follow up to her Green Porno and Seduce Me series of short films in which she pokes fun at and educates her viewers on the sex lives and other odd habits of life in the wild. The latest work could be called a "comumentary": the love child of a comedy and a documentary. But, no matter what you call it, it's clear the work is a labor of love for the filmmaker. This latest film takes us through a day-in-the-life of Isabella Rossellini, filmmaker and guide dog trainer, and all of the animal distractions that infiltrate her thoughts on this particular day.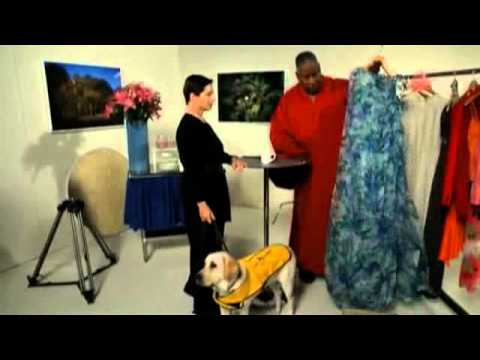 We begin our journey with a commute from the country (Long Island) to the city with guide dog Gracie. We go to a photo shoot, to lunch with Mario Batali, meet with Andre Leon Talley to discuss an exhibit of Ingrid Bergman's vintage wardrobe, and finally, evolutionary studies in Rossellini's Manhattan studio. The day-in-the-life is prefaced by a brief autobiography filled with vintage film footage and image galleries of Rossellini and her siblings with family pets through the decades and an homage, of sorts, to her parents' legacies of filmmaking and acting.
Throughout the day, Rossellini s distracted by pigeons and horses and butterflies, even a fully-trained guide dog guiding his human. At the photo shoot, she wonders what becomes of the Demodex – the microscopic creatures that live in our eyelashes – when confronted by the application of mascara. She imagines herself as the Demodex under attack.
Several times, she's visited by the spirit of Charles Darwin (performed by Rossellini and voiced by actor Campbell Scott) who educates her on the evolution of species with particular attention to dogs. In an especially comedic segment, Rossellini, aided by Andre Leon Talley and Charles Darwin, act out a conversation from the perspective of a dog's awareness of human speech. Later, she takes us on a tour of a miniature, Manhattan Island complete with fluffy, construction paper trees (of course, we hope the construction paper was recycled) of Central Park and delightful cardboard replicas of New York City landmarks.
Perhaps the most useful information comes out of the lunch meeting with Mario Batali where Rossellini asks a question we all have: How do we know what we can eat that's safe, healthy, and compassionate?
Mario agrees the information is hard to decipher and changes from week-to-week but provides some useful guidelines for selecting and preparing food that considers the bigger picture. This documentary features no celebrity declarations of environmental responsibility or soapbox preaching. The film succeeds because it poses all of the difficult questions the filmmaker, herself, struggles to answer on a daily basis and some of the dilemmas facing the environment, humanity, and the animal world as an integrated entity. It doesn't provide the answers. It forces us to ask important questions and to think about the world differently.
Isabella Rossellini is the real deal. She appears on screen, in HD glory, without the aid of the injectibles, fillers, or Botox so apparent in the faces of aging celebrities and women of a certain age. Her trademark smile, still the centerpiece of her face, conveys a youthful expressiveness and a comedic, mischievous character. What her Botoxed contemporaries don't realize is this: in embracing beauty at all stages of life, Isabella Rossellini appears younger, happier, and freer than most women her age. She reinvents herself through inquisitiveness, originality, scholarly curiosity, and an ongoing compassion for nature and the environment. And it shows.
To view videos included in Animals Distract Me, visit the Planet Green website and www.youtube.com.
Film images courtesy of Planet Green.
Event images by Carol Toscano.