An appearance by the incomparable Barbara Cook is genuine grounds for celebration. Last featured in Broadway's Sondheim on Sondheim 2010, Cook has arguably been one of America's preeminent interpreters of song for almost fifty years. Now in her eighties, she performs and records* less often but, should you doubt, with no less inviting warmth, supple phrasing, and emotional depth. I wouldn't trade an evening with this performer for any in the audience of dozens of pitch perfect vocalists whose comprehension of, and devotion to the truth of the material can't touch hers.
"Are You Having Any Fun?" (Sammy Fain/Jack Yellin) begins the ebullient Cook. What y'gettin' out o' livin'?/What good is what you've got/If you're not havin' any fun? Audience anticipation relaxes into sheer pleasure. The song is jaunty, the piano bright, her verve unquestionable. "After you do this for so long, it gets harder and harder to come up with a theme." Putting together songs which have been on a "possibilities list" for some time, Cook presents an interesting mixture of theater and pop numbers which currently resonate with her.
A bouncy rendition of "You Make Me Feel So Young" (Josef Myrow/Mack Gordon) becomes unusually intimate as she makes eye contact with person after person. Inexplicably never having done much Alan Jay Lerner, Cook offers three. The reflective "What Did I Have That I Don't Have" (with Burton Lane) is supported by particularly sensitive piano embellishment showcasing the velvet of her voice.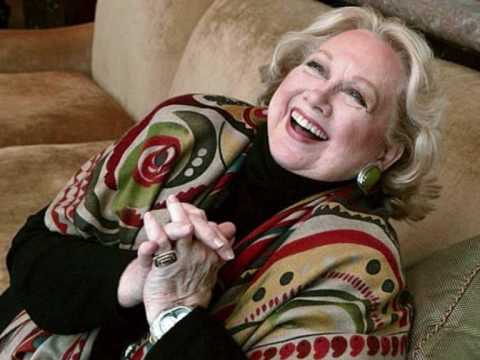 Another writer she's rarely performed is Cole Porter. "He says things that just don't feel like they belong in my mouth-but recently these words hit me a different way." "I've Got You Under My Skin" floats on undulating musical waves, builds, and then recedes, unexpectedly ending on a high note.
"Frim Fram Sauce" With oss-en-fay with sha fafa on the side (Joe Ricardel/Redd Evans), sashays in wearing a salty, honky tonk arrangement enriched by brass and buoyed by Cook's playing the kazoo. "I can't blame anybody but me. The kazoo is my idea." She's great. With Leslie Bricusse's "When I Look in Your Eyes," the room stills. Bells, triangle, and brushes whisper. Later, "I'm a Fool to Want You" (Jack Wolf/Joel Herron/ Frank Sinatra) with a lovely flute, is performed eyes closed, back to the piano. Cook's capacity to illuminate as well as communicate makes it feel as if we're in the presence of an overwhelmed heart.
"I couldn't possibly put a show together without at least one song by Stephen Sondheim. This one's a theme for bachelors or the recently divorced. I was divorced. Most of the time, I don't really mind and there's this thing about taste. My husband hated paisley. I love paisley…" she says with a small sigh. It's like listening to a friend over coffee. "Live Alone and Like It" is the song. Live alone and like it/Don't come down from that tree/That's the answer for me. The lyric registers. "Love is Good for Anything That Ails You" (Cliff Friend/Matty Malneck) was discovered "surfing tv" where it was performed by the scantily clad denizens of a cat house outside Las Vegas. "I'm gonna do that song," Cook resolved. It's appropriately hotsy totsy.
A lush arrangement of "Here's to Life" (Artie Butler/Phyllis Molinary), which should be printed out and tacked onto everyone's wall as an antidote for today's news, is followed by George & Ira Gershwin's "I Got Rhythm." The textured arrangement includes passages from "Rhapsody in Blue," "Fascinating Rhythm" and "American in Paris." Each of the musicians does a "goodnight" turn. They are, to a man, exceptional. For my money, Lee Musiker is Fred Astaire on the keys. The iconic "Imagine" (John Lennon) serves as encore. Just voice and piano. Pure prayer. Lennon would be pleased.
You Make Me Feel So Young is meticulously wrought and extremely entertaining.
*New CD: Barbara Cook & Michael Feinstein-Cheek to Cheek
Live from Feinstein's at Loew's Regency
You Make Me Feel So Young
Barbara Cook, Vocals
Lee Musiker, Music Director/Piano
Warren Odze, Percussion
Jay Leonhart, Bass
Steve Kenyon, Woodwinds
Feinstein's at Loew's Regency
540 Park Ave at 61st Street
212-339-4095
www.feinsteinsattheregency.com
Through June 18, 2011