Brooke Bundy—Octavia in The Hunger Games
The Hunger Games opens nationwide today.
Last year I was inspired to read and review The Hunger Games after discovering that a friend from my neighborhood in Brooklyn, Brooke Bundy, had been cast in the film. I wanted to talk to her to get her impressions of being a part of the production of one of the most anticipated films of the year and to hear a bit about what the experience was like.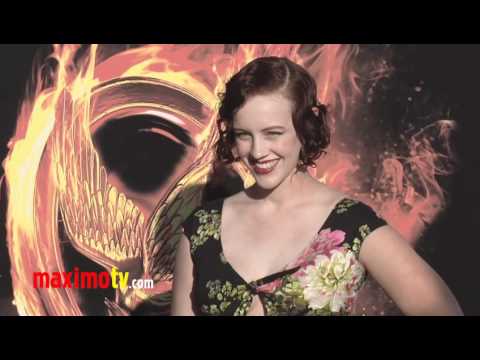 What stands out to you most about the experience of being in such a highly anticipated film?
The incredible excitement behind the films is an amazing thing to be a part of. It feels surreal to be a part of such a huge sensation.
The books were such a runaway success and every fan will have an idea in their minds of how everything should look, how well do you think they brought the story to life?
I think the team that put the movie together did beautiful work. One of the most rewarding parts of the experience was watching such an intricate web of talented people working together on something so large. I think the work really reflects how strong that team was, and the creativity with which they shaped that material for the screen really pays off.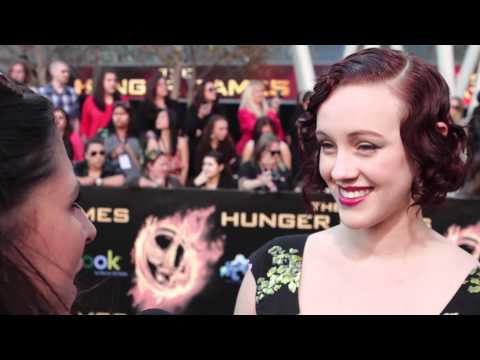 You play Octavia, a stylist in The Hunger Games, what kind of preparation did you do for your role?
It was a daunting and interesting experience for me as an actress, because I had never been a part of something so large. So I was a little terrified in coming to the set. I did the work I do for every role, which is the work of finding what you need to do to get in it, so to speak. But as is the case on all sets, you really just get thrown in and have to trust in your preparation. Although it was intimidating because of the scale and magnitude of the talent, I came away affirmed in the consistency of it with most sets I've been on, in that everyone is working incredibly hard to make the story come together. I just love being a part of that, and I'm so incredibly grateful for any opportunity to work in that capacity, especially on such an extraordinarily anticipated film.
How was the wardrobe and makeup? They are such a huge part of the books, was it the same in the film?
Oh, of course. Well, they're a huge part of any movie, so in this case it was awesome to see these top people get to do such creative work. The looks for the film were very thoughtfully and beautifully created, and it's a such a pleasure to see them on the screen.
Tell us about a day on the set.
You get your call time from production, transportation comes to pick you up in the morning, and you're taken to set to go into hair and makeup, which took about 3 hours for me for this film. You sit in the makeup trailer, drink coffee, eat breakfast and listen to music as the makeup artists and hair stylists, who are incredibly fun people, work on you. When all is ready, you are taken to set and told the blocking for whatever the scene, rehearse, and shoot. In productions of this scale, the coverage is very, very thorough so you go through the action many times. In between takes, artists touch up your makeup, you hang out and stay ready to work. Then, back to the hotel to have dinner and hang out with your friends from set. It is, in my opinion, one of the most satisfying ways to spend a day.
How was it being on the red carpet for the first time?
Wow, really nuts! It was a pretty surreal experience, receiving energy from so many people and cameras at once. But ultimately, it wasn't that scary and pretty fun. It was so great to see all my friends from set.
How is it coming back to regular life after shooting the film?
Pretty regular. It's funny to be a part of something so big time and then fly home and get right back into the grind. I'm definitely in my salad years, so my day-to-day is much less glamorous–but fortunately very full. I am creating a lot of my own work right now, which is unbelievably gratifying. I am currently en route back home from shooting a short film that I wrote, The Greggs, and am so thrilled to put it together. And I am really fortunate to have The Hunger Games to help me get my name out there.
When do the next films go into production?
I hear September, but I'll let you know when they let me know! I'm really looking forward to being part of a series as it develops.
Watch a trailer of Brooke's next film The Mud that she wrote and produced with friends.