Catherine Russell is a throwback to the era of iconic jazz. She's strong and vulnerable, sophisticated and deep-fried, a hundred percent lady and a low down, backdoor dame. With one number, she seems to be on a bandstand, for another in a smoke-filled joint, during a third, at a 50's martini-fueled nightclub.
Whatcha Gonna Do When There Ain't No Swing?! (Ray Condo) Russell challenges, making lyrics sound like scat: The rhythm is HOT HOT HOT. Her presence commands attention. She vibrates energy without a superfluous move. Even directing the band is accomplished with a raised arm, a turned wrist, and a look. Close your eyes/Let's pretend that we're counting sheep (Bernice Petkere) she croons with a voice of double-faced satin. Somewhere Arthur Prysock, whose Old Town Records' single made the song famous, is smiling. Matt Munisteri gives us a lovely guitar riff around the dark melody.
Munisteri plays banjo (yes, banjo, working it like a jazz instrument?!) on My Man's an Undertaker. Mark Shane's piano gives us honky tonk …and Russell, well, Russell has a contagiously good time. Not a song you're going to hear often.Leave it to this performer to unearth a lyric where wit and threat go hand in hand. She's expert at tongue-in-cheek. Her choices are interesting, entertaining, and often eclectic. She likes to choose something less familiar in the repertoire of singers she admires.
Under the Spell of the Blues (Edgar Sampson/Ken Harrison) recorded by 19 year-old Ella Fitzgerald in 1936, is a prime example of the lesser known. Russell sighs a mournful meditation straight from the hip. No inappropriate crowd-pleasing smile or souped-up rhythm mars the meaning. She's an actress whose process is invisible, simply delivering the goods. A better known, bright, anthem-like Ella number, Wake Up and Live (Mack Gordon/ Harry Revel) is followed by I'm Lazy That's All. The Mackie song is performed like the slow walk of a loose hipped woman knowing what effect she has on the room. That's attitude. At the other end of the spectrum, we're favored by a musically eloquent I'm in the Mood for Love, Jimmy McHugh and Dorothy Field's ultimate slow dance "…because it's spring."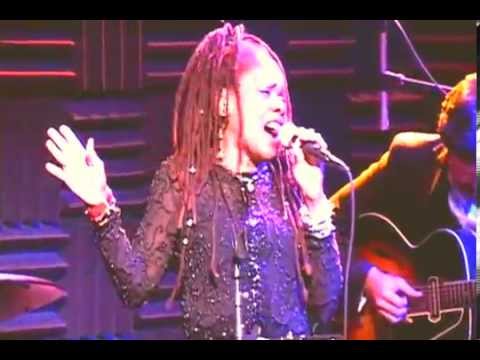 For Quiet Whiskey (Wynonie Harris/Henry Glover/Robert Schell/Fred Weismantel) Russell offers the surprise of Howard Johnson and his tuba. "When you come to my gig, you never know what you'll find," she tells us. From the traditional four lines of pissed off spoken verse, she launches into an up tempo, foot-tapping, knee swiveling, finger-snapping, head-bobbing rendition like a scrappy drunk, punching out phrases: WhiskeA on the shelf…The tuba adds richness, and round-note rasp.
Later, Howard returns for what has to be the pithiest, most insinuating version of Kitchen Man (Andy Razaf/Edna Pinkard) performed by a contemporary singer. Willie Dixon's Spoonful (add banjo) is so lost soul, it positively provokes keening. Russell's natural gravitas makes the lyrics visceral. The tuba adds shades of a N'Orleans marching band.
With nods in addition to Dinah Washington, Abby Lincoln, Mary Lou Williams, Jackie Wilson and Fats Waller, the scope of the program is deep and wide. Russell can pull a note like taffy, loop it out and back, syncopate or send it directly home. This is a prodigiously talented and stylish performer. Until you can sit in one of her sold-out houses, I recommend the CDs which are completely satisfying…again and again.
Photo credit: Frank Stewart/Jazz at Lincoln Center
Inside this Heart of Mine to purchase on Amazon.com
Catherine Russell at Dizzy's Club
Catherine Russell, Vocals
Matt Munisteri, Guitar, Banjo, Vocals
Mark Shane, Piano
Lee Hudson, Bass
Matron Felder, Drums
Howard Johnson, Tuba