If there was a performance that combines Memoirs of A Geisha, Spice Girls, and Stomp on a Can, COBU would be it. The action packed performance that combined drumming, dance, and urban Japanese fashion by an all female cast made for a thrilling and impressive show.
COBU is a New York based performance group that was started in 2000 by Yako Miyamoto, a current member of STOMP. COBU combines traditional Taiko drumming and tap dancing. However, it became evident as the performance went on that the cast members were multi-talented not only as drummers and dancers but also as singers and instrumentalists.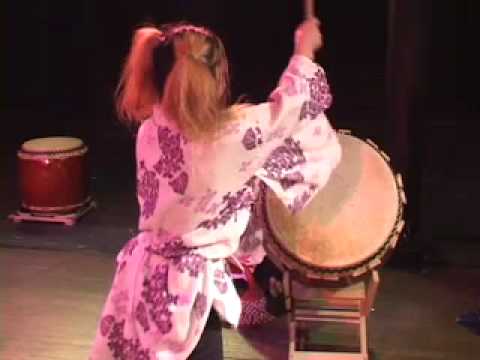 One of the unique elements of the drumming was the blending of traditional and modern influences. Two step urban beats created a fresh spin on the traditional drums. Combine this with some singing, some rock music on traditional samishens, some fun Japanese chorus shouts and you have one true variety act. The street fashion costumes worn by the performers also contributed to the edgy focus of the show. With baggy pants, colorful neon accessories, and belly shirts it was a glorious throwback to the "girl power" sentiment of the late 90's. Yako, a fierce performer with a pixie haircut, kept the audience involved and propelled the impetus of the performance.
The cast members performed with technical precision, executing difficult passes while maintaining complex rhythmic layers—all of this done with a big smile on their faces. As is the danger with non-dialogue shows it is easy for the mind to wander and doze off without a direct storyline to keep interest. However, COBU's carefully crafted and technically demanding performance kept interest and fun in the mix. The cast gave it their all and the audience responded with the same excitement.
COBU is a great performance to enjoy a technically complex performance but to also have a rocking good time. Girl power.
COBU
Bleecker Theatre
45 Bleecker Street(at Lafayette Street)
Last performance, Thursday, August 25, 2011 @ 5:15 p.m.