Hilde Back escaped to Sweden during World War II, leaving her mother and father behind in Germany. Sweden had agreed to take in Jewish children, but not adults, so Hilde's parents later died in concentration camps. Hilde knew what it meant to be an outsider and to struggle. When she became a schoolteacher, she decided to do something to help others. She signed on to sponsor a young boy in Kenya, paying $15 a month to keep him in school.
The boy, Chris Mburu, went on to college, Harvard Law School, and became a Human Rights lawyer for the United Nations. Inspired by Hilde's selfless act, Chris decided to honor her by carrying on her tradition of scholarships for Kenyan students, setting up the Hilde Back Scholarship Fund. A Small Act, a film by Jennifer Arnold, tells the story of this unlikely couple, united across continents by a common cause. Hilde Back is not Bill Gates, but her small act not only saved a life but also started a movement to save others. The message is clear: each one of us has the power to touch someone else's life.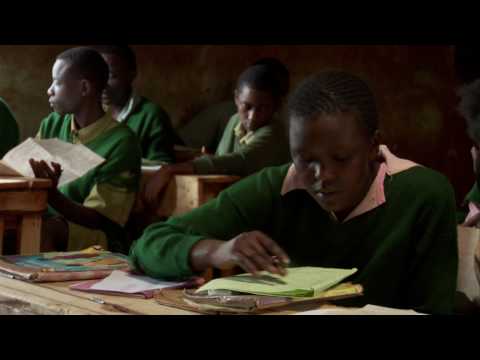 After briefly learning Mburu's story, we are introduced to the young people from his village vying for aid. Kimani, Ruth, and Caroline are the top three students and hope to score high on the state's exam to qualify for the scholarships. The children who do not win scholarships often cannot afford to continue schooling and have little hope for breaking the cycle of poverty. The children's families are overwhelmingly supportive, delivering pep talks and boasting about their children to others. These mothers and fathers have seen the value of education and want a better future for their children.
The children, speaking in their native language with subtitles, talk about their dreams and aspirations. There are no fancy computers and libraries in the village's one-room classroom. When at home, the children study by lamplight, if the family has enough oil for fuel. There are no scenes of these children playing. Every minute is spent studying for the exam.
In the meantime, we see Mburu traveling to Sweden to finally meet Hilde. Their reunion is joyous, with Hilde's friends gathering to help celebrate. Mburu presents her with a Harvard sweatshirt and only later does she notice that under the university's name is printed the word "Mom." She is overwhelmed and still has difficulty absorbing what her long-ago deed has accomplished. She never set out to change the world, but she did change Chris's life.
Now in her 80s, Hilde resembles a wood sprite. When she visits Kenya, the women help her don native dress and she then looks like Mother Teresa. One can't help but think that Mother Teresa, who also worked on a small scale, would have appreciated Hilde's spirit.
There's a third plotline in this documentary—the presidential election in Kenya. When the incumbent wins, his challenger's supporters go on a killing rampage, forcing many of Mburu's relatives to evacuate their homes. Against this backdrop, Mburu emphasizes the importance of education to combat the ignorance that leads to violence.
Mburu meets with his board members to decide on the scholarships. Unfortunately, Kimani, Ruth, and Caroline scored below the 350 marks needed to qualify for aid. But Mburu's cousin argues forcefully that these students should not be penalized. They have worked hard and should be considered candidates.
Kimani does win a scholarship and his excitement contrasts sharply with the disappointment of the two girls. (Watch through the credits for a surprise). Unlike in the U.S. where a mediocre grade on the SAT's might rule out an Ivy League school but still leave many possibilities, these Kenyan children have their entire future riding on one test.
The film ends but the movement continues. An HBO Documentary Film, A Small Act won the Nantucket Film Festival Audience Award and the Adrienne Shelly Directing Award. All around the country, schools, organizations, and non-profits are hosting A Small Act screenings to encourage other to emulate Hilde Back's philanthropy. To sponsor a screening, go to the film's website. For information on how you can help, go to the Network for Good's website or donate directly to the Hilde Back Education Fund. To purchase the DVD, go to Amazon.