Upon walking into the newly re-opened Pink Elephant, located in Greenwich Village, you may want to grab onto the walls as the all-black hallway, dotted with red light bulbs, can make you feel a bit dizzy. At least, that was my reaction as I climbed the stairway leading to the bar.
I was there to see Matt Doyle perform in anticipation of his new Extended Play release, Constant. And while I must admit I'd never heard him sing (live or recorded) before, I had a feeling the club did not match his vibe.
The performance took place in BON SOIR – a space in the club dedicated to a new Monday night Cabaret show – whose claim to fame is hosting Barbra Streisand's first performance. Not too shabby. The venue was nothing short of that Cabaret feel, with bright lights and small, intimate tables in front of the stage that make you feel almost a part of the performance. The set was complete with a cocktail waitress running to and from the bar.
As Matt Doyle took the stage, the bright lights diminished and the only light was focused on him, standing comfortably and smiling wide in a plaid button-down and dark jeans. He spoke to the audience with the same comfort as one would while speaking to old friends; the audience responded affectionately.
Doyle's opener, "If Morning Can't Wait" – a song about unrequited love – from his 2011 EP, Daylight, showcased his soothing and melodic voice from beginning to end. The audience was immediately hooked. His second song, "Can't Have You," from Constant, was described as "Hippie Blues," (a much happier version of unrequited love). The song was well-written and catchier than the first, and showed how his writing has changed, even in the short year between EP releases.
One of the most powerful songs of the night was called, "Home," a song written about Doyle's relationship with his father. While he made note that their relationship is in a better place now, the audience could see, hear, and feel all the emotion Doyle possessed when he wrote it, from the way he gripped the microphone to the tone in his voice that we'd yet to hear earlier.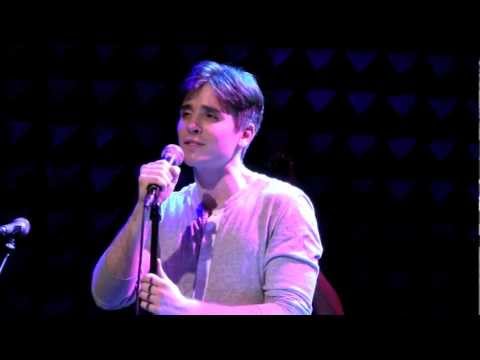 Doyle's last original song of the evening, "What You Stole," is what he describes as the single of the album. With a strong hook and catchy chorus, I'd have to agree. Surprisingly, he ended the show with his third cover of the night: Adele's "One and Only." As a self-described, "male Adele," this was a solid finish, but a slight disappointment, as his original works showcased who he is as an artist much better than the covers. Nevertheless, his seemingly effortless and smooth voice did great justice to the female powerhouse's song.
Doyle made sure to give much praise to his co-writer and pianist, Will Van Dyke (in photo on right with Matt), throughout the evening, and it was not lost. Van Dyke's playing made me yearn for the old electronic keyboard I used to tinker with as a child. His ability to enhance Matt's singing without overshadowing him was brilliant. BON SOIR's fantastic acoustics and sound system also played a solid role in making this show a success, as there was not one hitch throughout the evening.
If interested in seeing Matt perform live, his next show is scheduled for Monday, July 2 at Joe's Pub on Lafayette Street. For more information on Matt Doyle, please visit his website. Constant is now available on iTunes, Amazon, and CDBaby