One of the best things about living in Washington or New York is that we have access to cultural opportunities that simply aren't available elsewhere. For instance when they present the Academy Awards on February 26, most viewers will be left scratching their heads in aggravation when they announce the nominees for best animated shorts. "I haven't even heard of any of these," will be the cry across the land. But not here! Because here in New York and D.C. you can see all five Oscar nominees as well as four other highly commended animated shorts in Washington, at E Street's Landmark Theatre (they are also coming soon to the AFI Theatre in Silver Spring), and in New York at the IFC Center in the West Village. So take advantage and treat yourself to an evening of dazzling visual wonder, whimsy, and highly compacted storytelling. Presenting the nominees;
DiManche/Sunday–Canada
This Canadian entry runs ten minutes long. It is entirely free of dialogue and almost free of color as well; its deceptively simple hand drawn animation is done in shades of black, white, greys, and browns that mirror the desolate landscape on which it takes place. It's a charming rustic vignette. (Photo, top).
A Morning Stroll–UK
Also free of any spoken dialogue, this piece takes a supposedly simple concept, "chicken walking down the street and pecking at a door to gain entrance," and turns it into a high concept masterpiece, as the same element is repeated through three different time periods, (1959, 2009, 2059) and with three completely different animated styles. The fifties bit is all black and white with stick drawings, 2009 is bright and colorful with more dimension and the appearance of modern technology—it feels like the Cartoon Network—but 2059 is incredibly sophisticated computer graphics, showcasing a world after the zombie apocalypse. The whole thing eventually comes full circle. Seven minutes.
Wild Life–Canada
This little gem from Amanda Forbes and Wendy Tilbly is a tragicomedy of a British fop whose arrival in Alberta in 1909 to play "cowboy rancher" follows the trajectory of a comedy. The hand painted animation is of a wholly unique style that resembles impressionistic painting and the score incorporates traditional Western music and Gilbert and Sullivan. Thirteen minutes.
The Fantastic Flying Books of Morris Lessmore–USA
This computer generated, bittersweet tale of a bookish young man who is transported via whirlwind to a mysterious land to become the curator/caretaker of an enchanted book collection, (they hop, they fly, they communicate, they dance to "Pop Goes the Weasel!) is pure magic. It is a love letter to the written word and a fable on how all of us have a story to tell. Fifteen minutes.
La Luna–USA
Here is the requisite Pixar entry; set against the nighttime ocean and sky, featuring tradesman who "clean" up fallen stars off the moon this is a gorgeous spectacle if somewhat slight. Seven minutes.
And here comes those shorts that, while not nominated for the Oscar, were still highly commended.
Skylight–Canada
This amusing little mockumentary written and directed by David Baas and narrated by Jason Groh takes a classic fifties newsreel approach to the problem of ozone depletion set against the Arctic with penguins. Generally as far as animation goes you can never go wrong with penguins! Five minutes.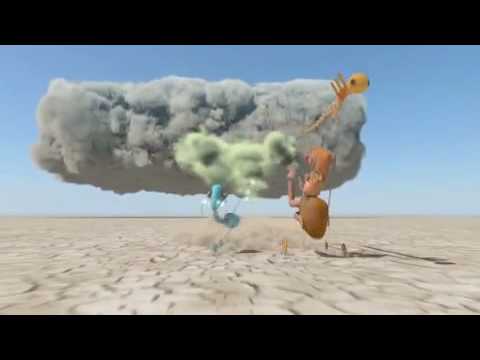 The Hybrid Union–USA
Written and directed by Serguei Kouchnerov, and based on his own oil paintings, we are treated to strange abstract beings fighting for survival across a wasteland that finally create an entirely new energy form. Four minutes.
Nullarbor–Australia
Hyper realistic computer graphics tell a story involving road rage, and a desperate quest for smokes alongside beautiful and barren landscape of Australia's Nullarbor plain. Ten minutes.
Amazonia–USA
Written and directed by Sam Chen, Amazonia is a fun filled, adrenaline pumping adventure, filmed with vibrant eye-popping colors featuring two tree frogs trying to find edibles without being eaten themselves in their beautiful but deadly habitat. Five minutes.
Go and enjoy-but remember not all of these skits are necessarily aimed for children.
E Street's Landmark Theatre
555 11th Street, NW
202-452-7672
AFI Silver Theatre
8633 Colesville Road
Silver Spring
301-495-6700
IFC Center
323 Sixth Avenue at West Third Street
212-924-7771