Mission: Impossible – Rogue Nation Offers the Usual Thrills
Nearly two decades after the original Mission Impossible tore through the box office in 1996, Tom Cruise once again slays as Ethan Hunt in the latest installment, Mission: Impossible – Rogue Nation.  Like its four predecessors, Rogue Nation easily impresses with a slew of arresting actors, gripping action, and thrills that are as intense as ever.  The movie opens with the CIA shutting down the IMF, leaving Hunt essentially stranded as he stalks the globe seeking out the shadowy terrorist organization, the Syndicate. Crossing paths with cryptic British agent, Ilsa Faust, Hunt must decide whose side she is on as he works to prove the Syndicate exists, and is, in fact, plotting to destruct global order. As he zips through exotic locales, Hunt also reunites with his loyal IMF cohorts in order to track down the elusive mastermind behind the Syndicate.
As can be expected from the Mission: Impossible films, the cast is top-notch.  Reprising their roles from Mission: Impossible – Ghost Protocol are Jeremy Renner, Ving Rhames, and Simon Pegg.  Offering one of the best performances in the film is Pegg, who is hilarious as the neurotic and acerbic Benji.  Relative newcomer Rebecca Ferguson also wows as the stunning Ilsa, while Sean Harris pulls off the creepy, villainous Solomon Lane with aplomb.
Though Alec Baldwin is perfunctory—yet perfectly fine—as CIA chief Alan Hunley, it is Tom Cruise's charismatic performance that helps highlight the chemistry among the cast. There is no denying Cruise's ability as an actor: he has proven his irrefutable star quality time and time again. As in previous installments, Cruise ups the ante by performing many of his stunts himself, like when he dangles from the side of a moving plane, or holds his breath underwater for six harrowing minutes in one claustrophobic scene.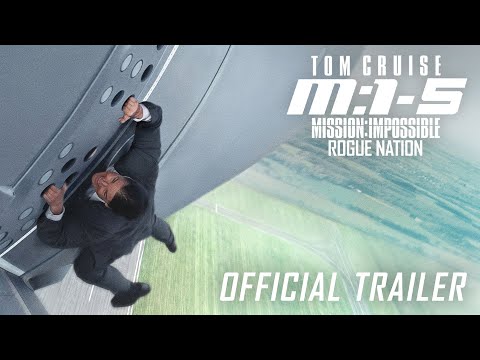 Indeed, the movie is nothing without its intense action sequences, and Rogue Nation does not leave audiences wanting. Shoot-outs, knife fights, and car chases are aplenty. While the film is intense and action packed, however, it does leave one wondering where the end is for Ethan Hunt. It is hard to top what he's already done in previous installments, and Hunt seems rather worn from the effort. Now five films in, it is undeniably difficult to offer viewers something entirely fresh. The filmmakers behind the franchise are aware of what audiences are seeking at this point, yet must prove that it is possible to not only fulfill those expectations, but exceed them as well. With possibly too much action, too many plot twists, and too many close calls, Rogue Nation runs the risk of becoming slightly boring. Still, with an elaborate storyline, stunning effects, and terrific casting, the movie is a close-to-perfect action film that will tick all the boxes for most viewers.
Mission: Impossible – Rogue Nation opens nationwide on Friday, July 31st.