Mojo – N. 1. Self-confidence, Self-assuredness. As in basis for belief in one's self in a situation
(The Urban Dictionary)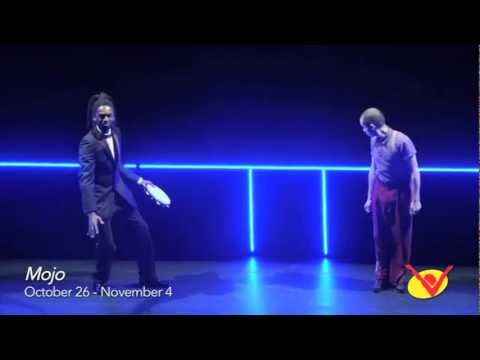 More a captivating entertainment than a piece concerning life lessons, the musical, visual, kinetic Mojo opens with Adriano Adewale, a Bobby McFerrin-like performer who engagingly sings sounds and plays lots of instruments, sometimes acting as host. Identifiable language is used only in songs and even then, emphasizing rather than explaining what's going on. There is nothing a child might struggle to understand. You and the kids will take it in on your own levels.
Adewale helps each cast member pass from the audience through a LED light portal of shifting shape and into the performance. When difficulties in "fitting" arise, the audience giggles. Rods appear floating within the frame… join with one another to form wings, then butterflies (more giggles), then a stick figure. Puppeteers are invisible. Our host never stops moving, singing, playing. A floating trumpet is retrieved by a second, multifaceted musician/vocalist, Leo Altarelli, who seems to blow hollow bubbles from it which become a face. Adewale's tambourine/drum is traded for a small xylophone, Altarelli's trumpet for a ukulele.
Floating triangles, a ball and a square form a little person resembling a koala. Other cast members appear to welcome "the child." Full size vibraphones roll in from either side of the portal; the ukulele is traded for a guitar and the baby becomes a toddler, a little girl. The puppet is manipulated by three unobtrusive people, who seem to be playing with her rather than effecting movement. From here on, much of the loose narrative centers on the girl.
Sound-making/singing, terrific musicianship, and dancing/movement fill center stage as the group plays with the child who gradually gets bigger/grows up. Though she has only eyes, gestures convey emotion. Light shapes come and go while physical shapes float in (and are retrieved) or come up from the floor turning into, among other things, oversized magic tricks, flowers, or creatures as big as people. The little girl exhibits more and more character as she grows until, a petulant adolescent, she must be coaxed back into valuing play.
This is a non-stop piece with something interesting and cool to look at and listen to every moment. Performers are energetic, upbeat and appealing. Our young audience was fully attentive until the last fifteen minutes when mass focus seemed to flag. Mine too. We end by singing a Mojo song, which drew us back together and sent people smiling to the exits.
Photo credits:
1 and 2 –  Elliot Franks
3 – Patrick Baldwin
Mojo
Directed by Sue Buckmaster
Choreographer-Arthur Pita
Composers- Adriano Adewale, Leo Altarelli
Set and Lighting Designer- Peter Mumford
Puppetry Designer-Michael Fowkes
With: Adriano Adewale, Leo Altarelli, Robin Beer, Rachel Donovan,
Sarah 'Fitz" Fitzpatrick, Samuel Dutton, Simon Palmer, Tanya Richam-Odoi
80 minutes, no intermission
The New Victory Theater
209 West 42nd Street
Through November 4, 2012