Murder in the First is the kind of powerful drama you might watch in black and white on TCM at 3 a.m. With shades of noir, galvanizing plot, and solid ensemble work, this prison/courtroom piece presents the most unsettling of human stories, more so as it's based on actual fact.
1941. Willie Moore (Chad Kimball) was a smalltime, youthful offender swallowed by the judicial system, chewed up during rough incarceration and finally, as punishment for an escape attempt, the worst crime at Alcatraz, beaten, thrown down a metal stairwell and locked in the "lower cells" for THREE YEARS. Three years in a small, literally black, cement cell with minimal food and next to no exercise. When they finally let him out, he goes crazy at mess and kills a man "without provocation."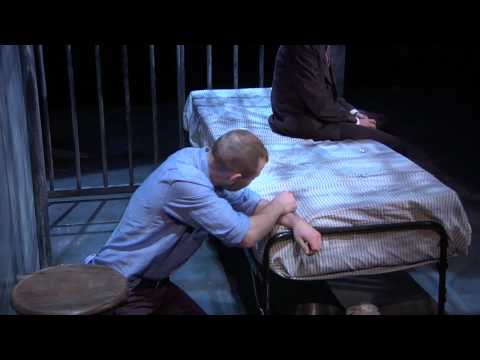 Henry Davidson (Guy Burnet) is a 24 year-old attorney, fresh out of Harvard. Assigned Willie's case as his first, he goes at it with passion and integrity not yet mangled by experience. The head of the firm, Henkin, (John Fitzgibbon), his boss and girlfriend, Mary, (Larisa Polonsky), and his high powered corporate lawyer brother, Byron (John Stanisci) all feel "the guy's guilty," no viable defense exists, and that court time is merely a way to get Henry's feet wet.
Despite lack of cooperation from the completely defeated convict who agrees to see him only to have company, Henry zealously accuses the prison itself and the men who control it of being "co-conspirators." He puts Alcatraz on trial for having "created" a killer, digging up records which stretch the imagination. Houlihan (Joseph Adams), a radio personality/reporter offering exposure for exclusivity (think vulture) enthusiastically tells the young man "You may not look like John Dillinger, but you just took on the Feds." Henry has done just that.
Courtroom scenes are enthralling. The horrifying situation is illuminated by a cast of substantially compelling characters, each and every one written with a sensitivity to human nature and defining detail that creates whole men. It's like watching verbal combustion. Playwright Dan Gordon wisely also takes us outside to witness Henry's life change radically with commitment to what is now a cause as well as a client. Consequences are briefly indicated, dramatically potent. Henry's brother is immensely effective as example of a part of "ruling" society we all find familiar. Mary is the least well realized character and doesn't weigh in.
Some of the best, most deft interaction occurs in Willie's cell as the men develop an unexpected relationship with one another. We bear witness not only to resolution of a spectacularly unusual interpretation of "crimes against humanity," but also to the tandem journeys of Henry and Willie, which couldn't be more different or reflective of reality. A scene of surprising generosity and risk is inspired. The epilogue is revelatory.
Guy Burnet (Henry Davidson) offers a performance of unquestionable veracity. He's so good, you simply accept him as the brilliant, dogged, naïve Henry. Realizations flicker across his face, a pause before responding to verbal attack creates naturalistic timing, you can practically hear him think, and certainly feel the actor seethe. Burnet is as dynamic during trial as he is quietly attentive when struggling with Willie. Two handed dialogues are strong and sensitive. An actor to watch.
Chad Kimball (Willie Moore) would be the Academy Award for Best Supporting Actor were this a film. He is simply riveting. Kimball has developed and tooled every aspect of his character so that Willie is vocally, physically, and emotionally credible. His raw, focused stage presence is unnerving from the first moment we see him in Willie's cell (after an initial shocking glimpse). The unspoken feelings of a wounded, cornered animal exude from every pore. Kimball not only makes Willie sympathetic, he gives him a very specific heart and mind.
Larisa Polonsky (Mary McCasslin) has little to work with in terms of character exposition. Interplay with Henry is mostly predictable, requiring little of the actress. In her two scenes with Willie, however, Polonsky shows she has craft. Mary's physical fear, professional turmoil, and personal revulsion are made palpable.
Joseph Adams (Houlihan) reminded me of Robert Preston performing "Ya Got Trouble" (in River City)—he even looks like a young Preston. Channeling the perfect flimflam man, he appears quick, bright, wicked and a familiar media representative. A deft performance.
John Stanisci (Byron Davidson) imbues the mostly unlikeable Byron with style, social gravitas and comprehensible reasoning. The actor manages to embody a character which might seem a villain in less capable hands by attributing to him, despite his actions, signs of humility and deep seated affection for Henry.
Robert Hogan (Harold Humson), in his brief portrayal of the head of Alcatraz wrestling with demons of conscience, displays wrenching upheaval with minimal, nuanced "acting." Other cast members include: J.Stephen Brantley, Richard Fiske, John Fitzgibbon, Ian Holcomb, Anthoula Katsimatides, Daren Kelly, Jim Lorenzo, Thomas Ryan, and Ryan Scoble.
Director Michael Parva has engineered this drama like a good general might a sprawling battle. While momentum drives, every facet must be attended to or the entire effort fails.
Use of the stage and terrific set is interesting and successfully manipulative in terms of controlling impact. Pacing couldn't be better. Every actor listens. Physical manifestations such as Willie's seeming discomfort in his own body and Mary's reactions to his reaching out are arresting. Stillness is equally well in effect. Opening and closing moments are mesmerizing.
Mark Nayden's set is extremely effective. Allowing set-ups for all locations to simultaneously occupy the stage keeps the piece fluid and every contributing circumstance in mind. Proportions are particularly clever—the height of the judge's bench appears exaggerated, a window above it sheds an evocative splintered shadow, balconies support authority figures watching over. The minimalist cell contains just enough. Its configuration adds to the feeling of capture.
David Castaneda's lighting design is evocative. He's especially good with looming shadows. Quentin Chiappetta's original music and sound design is cinematic, its mood exactly right. Costumes by Tristan Raines are not just period accurate, but appropriately specific to each character. The style, cut and fabric of the men's suits is telling.
Photos: Carol Rosegg
Court: Left to Right: Chad Kimball, Ryan Scoball, Guy Burnet, Thomas Ryan, Jim Lorenzo, Daren Kelly
Cell: Guy Burnet, Chad Kimball
Willie & Mary: Chad Kimball, Larisa Polonsky
Henry & Byron: Guy Burnet, John Stanisci
The Directors Company in Association with
Chase Mishkin, Barbara & Buddy Freitag and
Invictus Theater Company present
Murder in the First by Dan Gordon
Directed by Michael Parva
59E59 Theaters
59 East 59th Street
Through July 1, 2012