Let me just begin by saying this was one of the most difficult pieces I've ever had to write. This is not because the works I was reviewing aren't wonderful (they are) or inspiring (completely), or that the quality isn't exceptionally high (it is). The reason it was so very, very, extremely difficult to do this piece is because the work I'm going to tell you about — as a combined book and CD — is so incredibly effective. I would pop in one of the music discs and somewhere between two and three songs later I would feel an honest, urgent need for a nap.
What can you say about a compilation of lullabies that does exactly as it promises other than to warn listeners that it should not be played while operating heavy machinery? I went to the source and asked one of the creative minds behind Over The Moon: The Broadway Lullaby Project, Jodi Glucksman, for some history.
The charitable project to raise funds for breast cancer research began with co-creator Kate Dawson's idea to make a CD of lullabies written and performed by musical theater composers and performers. It was going to be a small effort recorded in a friend's home and sold online. But that's not what happened. Kate enlisted Jodi's help to get the thing off the ground, and soon the two were making queries to composers and vocalists and receiving response after generous, emotional response.
Jodi Glucksman
Kate had lost her cousin, Jill, to breast cancer. Jodi lost a grandmother when she was very young, and both her mother and mother-in-law had faced cancer and survived. The pair had a lot of emotional weight behind them going into the project. What they didn't necessarily expect was to hear the same kinds of stories told again and again as enlisted producers and artists shared their family struggles against cancer.
Barbara Rick and her Out of The Blue Films team — including her husband, the cinematographer Jim Anderson (who lost his sister to breast cancer) — were the next to join The Broadway Lullaby Project team. Kate and Jodi knew they wanted The Lullaby Project to be a full multimedia experience. "Barbara and Jim had the insight, sensitivity and subtlety befitting our vision."
As the project continued to bring in contributors and grow in scope, it became clear that Matt Pierson, whose thoughtful concept for the music, made him the perfect album producer. He also had a personal connection to the project because, like so many others involved, his mother is a breast cancer survivor.
Jodi Glucksman and Kate Dawson
The idea to include a children's picture book in the project, says Jodi, "emerged unexpectedly during a discussion of baby bedtime rituals. Each song would be written by a different composer and performed by a different vocalist, and now also illustrated by a different artist in a book of illustrations with printed lyrics that could be shared and enjoyed while cuddling, singing, drifting into slumber. Idyllic, right?"
That idea led to award-winning designer — and cancer survivor — Barbara Aronica-Buck and her publisher David Wilk, who quickly started brainstorming illustration ideas and artists. In addition, Richard Michelson (of R. Michelson Gallery in Northampton, MA) brought many remarkable illustrators to Jodi and Kate's attention, even inviting them to a special event at his gallery to meet some of his favorite artists. His daughter, Marisa, even lent a hand, contributing a lullaby just for this project ("All New").
"This project reflects a complex web… a tapestry of artistic community and generosity. I'm a producer, dramaturg and writer (among other things). I'm fortunate to know a lot of extremely talented people and a lot of people who know a lot of extremely talented people. Kate is a musical theatre performer. Her husband used to be a musical theatre performer. They know others. And they know singers and composers who know more.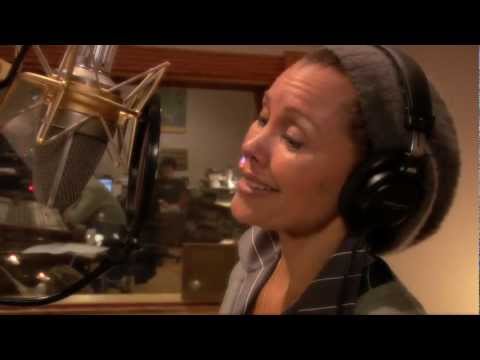 "Notable among those who helped us reach out to talent of all sorts are the prolific and supremely generous Todd Haimes (and the wonderful people at Roundabout Theatre Company) and Tom Viertel (both of whose mothers fell victim to breast cancer), Robyn Goodman and the multi-talented Charles Randolph-Wright who brought us composers and singers who in turn brought others. Maury Yeston led us to Michael John LaChiusa and David Shire. There are many such stories. This project blossomed through exponential circles of friendship in music and art." Performers who participated include Michael Cerveris, Raul Esparza, Sutton Foster, Nona Hendryx, Rupert Holmes, Brian d'Arcy James, Nikki M. James, Tony Kushner, Rebecca Luker, Audra McDonald, Donna Murphy, Kelli O'Hara, Anika Noni Rose, Stephen Sondheim, Will Swenson, and Vanessa Williams.
The whole process, from concept to completion, came through in under a year — a remarkably short period of time — with the passion and enthusiasm of everyone involved. The ambitious project incorporates a two-CD, 26-song set, a lavishly-illustrated hardcover book of 17 songs from the album, a corresponding e-book encompassing the entire collection, and a documentary film.
I asked Jodi if the incredible response from such a broad range of artistic communities was something she expected. "When we started we had no idea what kind of response to expect. All of our contributors have been touched to a greater or lesser degree by cancer, many specifically by breast cancer.  This is a painful reminder in joyful form of the need to give, share and unite for comfort and support. The response to this endeavor exemplifies community in the best possible sense of the word."
To ensure the project would do the best possible work for breast cancer patients and survivors, Jodi and her husband have underwritten the entire cost of creating Over the Moon, in all its forms. In addition, all of the authors, artists, composers and performers donated their time and talent to this wonderful project. Proceeds from Over the Moon will be divided between the Breast Cancer Research Foundation — founded by Evelyn Lauder to advance the most promising breast cancer research — and the Young Survival Coalition, which is the premier worldwide organization addressing issues that are unique to younger women who have been diagnosed and treated for breast cancer.
When asked if she could think of one standout moment in the process of bringing the lullaby project to life, Jodi had this to say: "There have been so many precious moments, how can I possibly single one out?  I could tell you anecdotes of fun and thrills, of heart-wrenching poignancy, of struggle and (let's face it) stress and strife, but that's not the goal.  The goal is to bring comfort and joy and financial support. Share the lullabies and spread the word and give the gift of time."
To purchase the CD and book, go to the website for Over the Moon: The Broadway Lullaby Project.