In December, 2007, Paula Bresnan Gibson agreed to buy a ticket from a friend to attend a holiday performance by the Gay Men's Chorus of Washington, D.C. "When I heard the music that they sang, it immediately resonated with me," Paula said. "I understood that there was more to hearing beautiful music; it was hearing a beautiful message as well."
Paula stayed in touch with her friend and he invited her to GMCW's annual spring gala. Her friend was on GMCW's board of directors and as they talked during the evening, Paula, who also had a musical background, thought about joining the board. "I've gotten more out of this organization than I ever could have imagined," she said. "It came at a great time in my life when I was open to something new and something that I was enthusiastic about."
After being elected to the board, Paula wanted to meet as many people in the organization as possible. "There are many other gay organizations in the city that these men could devote their time to," Paula said, wondering about the appeal of GMCW. "As someone told me, it's what got him out of bed in the morning every day. And that really struck me. I thought this would be a really great story to hear from people in the chorus about what the chorus means to them. If I'm so profoundly changed in a positive way because of this organization, there will be more people who will feel that way as well."
Paula decided to write a book, recording interviews with GMCW members. The result is Voices from the Chorus, a moving tribute to a talented group of musicians who came together and found friendship, family, purpose, and sometimes love. Paula's project proved to be cathartic for the men she spoke with. For Paula, the experience was emotional, with many lows but, ultimately, many more highs. "I really wasn't prepared for all the stories that I was going to hear, very sad stories," she said. "But also I found that people triumphed over those situations." She came away with respect for those she interviewed, marveling at their talents, courage, and strength.
"Sometimes I close my eyes and can't believe how beautiful the music sounds."  Cliff Gilbert
"That was very powerful," Paula said. "He had been through many years of dealing with many cocktails that he had to take for his HIV/AIDS complications. He'd been left for dead and sure enough he's still alive and still feeling the complications of living with HIV/AIDS and the chorus is a big part of his therapy."
For many of the men, GMCW becomes a social network and ultimately a family. "It is a place of belonging, a sense of camaraderie and a sense of being a part of something that is really positive," said Paula.
It's a safe place to socialize and feel like a community, I think that it has a wonderful mission. It's one thing to go into a gay bar, because you want to meet people or socialize, but you're not accomplishing anything. When the chorus sings for audiences, you are furthering the progress for the gay community in terms of being recognized and respected as a part of society that should have full and equal rights and to end a lot of the persecution and prejudice that makes our reality challenging. Ken Fox
"Because of the chorus, many men have been able to have that conversation with their mothers or their fathers; the music inspires that conversation," said Paula. One member profiled in the book brought his mother to a concert, leading to a greater understanding. "She finally understood what it was all about, it wasn't just some campy group, but a chorus that performs for fun, doing good things with their time, creating beautiful music, making an artistic statement and on some level a political statement."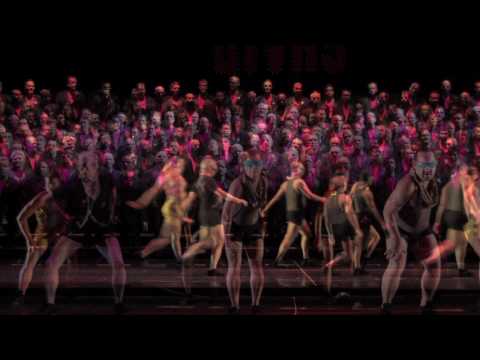 Many of the members sang in high school or college groups and were eager to get back to something they loved—choral music. "There are so many wide ranging interests [in the group], from the standard classical fare and the pop music," said Paula. (Some of the members who first sign up, sign up to dance and then end up singing, too. Their talents are  brilliantly on display in Lady Gaga's "Poker Face.")  Paula said: "Everything that's done at a performance is done at the highest level. They are making quite an artistic statement when they get up on stage, whether it's a fun dance number or a serious piece, it's done with a lot of effort so they can have the best performance possible."
Often the music evokes incredible emotions from the group and from the audience. In 2010, the group performed "Naked Man," music commissioned by the Gay Men's Chorus in San Francisco in 1996. The 15 movement song cycle covers all aspects of the gay experience.
I was literally numb afterwards. I couldn't go out and party afterwards. It affected me so much more deeply than I had expected. Todd Paul
One member of the chorus was overwhelmed the first time he sang "Someday My Prince Will Come" from Disney's Snow White and the Seven Dwarfs.
I started weeping in the middle of the rehearsal because I had never heard 200 men sing that song. It was beautiful. At the time I was single, hopeful, but when I heard those lyrics, it was the most amazing sound. Eric Peterson
Some members have found love within the chorus (one man proposed to his partner during a rehearsal), but others regard the chorus, not necessarily as a place to meet a future lover, but to find friendship and a community.
Paula's book has been met with overwhelming approval from the GMCW members. "Many of them were crying; they didn't know the stories about others in the chorus," she said. "They felt even more moved to be so lucky to be a part of this organization. It really made them realize how important it was to them."
Paula will be signing books at the Barnes & Noble at Union Station at noon on June 8, the kick off for the Capital Pride Weekend. In July, she travels to Denver to present a workshop about her book at the Gay Choral Festival, an event that attracts nearly 6,000 delegates from around the world. Some of the men included in the book will talk about their experiences being interviewed by Paula. For more information, go to Voices from a Chorus website.
GMCW's next performance, Heart Throbs, will be on Saturday, June 2 and Sunday, June 3 in the Lisner Auditorium, 730 21st Street, NW. The chorus will be going through the decades of music inspired by the singers who were the heart throbs of the men in the chorus, including David Cassidy and Frank Sinatra. For more information, go to GMCW's website.