Summer is when some of the best films of the season will be released. Why not check out films you haven't seen yet and why pay full price for films at the theater? Last week I was invited to a special screening of Falling for Grace—a romantic comedy produced right here in Manhattan by Fay Ann Lee (2007).
Grace Tang, played by writer/director Fay Ann Lee, is an ambitious Wall Street Investment Banker raised in Chinatown. Though she has achieved financial success and stability, Grace still yearns for social acceptance among New York's high society. When she is finally invited to her first high-end soiree, she is accidentally mistaken for an heiress from Hong Kong, with the same name – the Grace Tang of Shanghai Tang. Her efforts to correct the mistake lose some of their forcefulness when she is subsequently introduced to her prince charming, Andrew James Barrington, Jr. (Gale Harold), who is dating Kay Douglas (Stephanie March).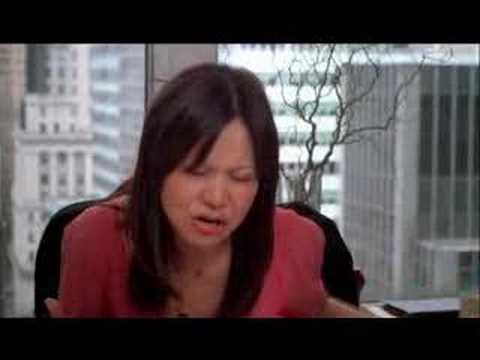 Having never felt more special, Grace decides to run with her identity. The plot get's more complicated from here and weaves us around the city's familiar places with unexpected twists and turns. It is a fun, light and uncomplicated film with big Gotham star power, including Christine Baranski and the witty Margaret Cho.
Falling For Grace toured in theatres around the country from 2007 to 2010, after premiering at the Tribeca Film Festival in 2006. Starz licensed the film in the U.S. for television for 2011. It is also available on Netflix and other DVD outlets. Foreign sales are growing with many countries licensing the film for television, including Italy, Poland, Spain, Russia, and China with more sales in the works. Fundraising, especially in a fickle environment, is always something I am curious and inquired how the film was backed. Money was raised independently from 50 different investors who were mostly working Wall Street executives.
The event was held at J.P. Morgan's midtown headquarters in benefitting AsPIRE (the Employee Network for Asian Pacific Islanders). This was a special celebration of Asian American Heritage Month. There were several introductory speakers that were very impressive, who I must mention first. We were welcomed by a very young J.P. Morgan Managing Director—Joyce Chang, from the Emerging Markets Investment Banking Division.
The reception was catered by the fromagerie Artisanal and select wines, until we were whisked off to the theater, with popcorn and water bottles at our seats—a nice touch after a long Monday!
New York City Comptroller, John C. Liu, who is also very young and Asian, gave opening remarks. Followed by annotations from the Honorable David N. Dinkins, NYC Mayor form 1990 to 1993, who was animated, inspiring and informed the audience on the statistics of women and minority filmmakers.
The percentage of women working as directors, writers, producers, cinematographers, and editors on domestically produced feature-length films appearing at top U.S. film festivals is substantially higher than the percentage of women working on the top 250 domestic grossing films (24 percent vs. 16 percent). This number is up from 7 percent in 2009 however. Beyonce's latest hit Girls Run the World may be an indication of the future.
Fay's next film is a romantic comedy that deals with a divorced couple being forced to live together in the same house with the kids because they can't afford to live apart. It is always inspiring to see a successful female executive who left the corporate world and is able to do something creative. We look forward to her next film!