Good- adj. 1. Having the right or desired qualities 2. efficient; competent 3. a. kind; benevolent, b. morally excellent c. charitable d. well-behaved The Oxford American Dictionary
Margaret/Margie-hard "g" (Frances McDormand) is a Southie, a working-class Irish American from South Boston trapped in an apparently no-exit situation. Having left school because of an early pregnancy, she's a single mother supporting her retarded now-adult daughter on the minimum wage of a cashier's job at the Dollar Store. Called on the carpet by her young boss, we watch Margie flail like an exhausted trapped animal until she's expectedly fired.
Now what? Her quirky landlady, Dottie (Estelle Parsons), who babysits Margie's daughter when she's not making Styrofoam bunny rabbits "my crafts," bluntly brings up the difficulty of securing a new job and implies her own unemployed son may need the apartment. Margie's best friend, Jean/Jeanie (Becky Ann Baker,) suggests Margie approach an old school mate—briefly a boyfriend—who's returned to the area a successful doctor. Maybe he can offer her a job answering phones or filing. The dynamic between these three women is completely realistic. Their circumstances cause them to huddle for warmth, even as potshots are lobbed. Recognition makes allowances.
Margie shows up unannounced at the posh office of Dr. Mike Dillon (Tate Donovan) whose life has evolved, resembling hers about as much as a second-hand bicycle resembles a spanking new Harley. Digging in, she refuses to take his polite "no" for an answer. To Margie, that "no" applies to everything she hoped for, everything to which she aspires. She calls Mikie "lace curtain Irish" (thinking one is better than other people). He defensively reacts by inviting her to the catered birthday party being given by his wife. Maybe one of the guests will have a job to offer. Surely Margie will realize how out of place she'll feel and decide not to come.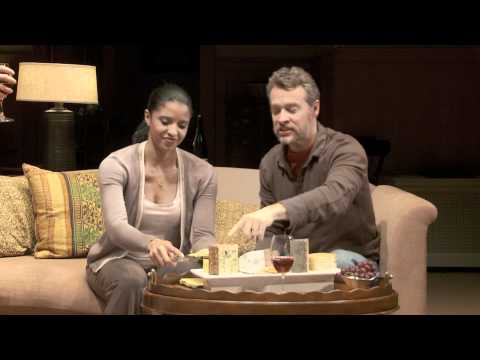 When Mikie calls to say the party has been cancelled because his daughter is sick, Margie doesn't believe him and takes the train to Chestnut Hill (Tara, to Margie. "I pictured pillars.") His wife, Kate (Renee Elise Goldsberry), answers the door. She's young, attractive, educated, liberal and black (this matters). Kate first mistakes Margie for the caterer come to collect supplies. Kate insists Margie stay, extremely curious about her smooth-talking husband's pre-university days. Margie looks around with longing. "How's your wine?" Kate asks. "How the fuck should I know," Margie responds with more candor than sarcasm. Between their two lives is a chasm. Could I have had all this, Margie wonders?
"I misunderstood," she says numbly. "It was probably the way he said it," Kate responds, "he does that to me all the time. If it's any consolation, people always think I'm the nanny." The Dillon marriage is hardly idyllic. Mikie is not pleased with Margie's intrusion. You can almost see his foot tapping with annoyance. Every word he emits is colored by tension and impatience.
What ensues are a range of palpably convincing emotional fireworks ranging from sparklers to Roman Candles. The past is dredged up in detail. Secrets are revealed and rescinded. The truth is elusive. Margie complicates issues, first inadvertently, then desperately, and finally with vengeance. It's a grease fire. Where could choices have been different? When was luck the determinant?
Frances McDormand (Margaret) was the production's first choice. In the kind of part she swallows whole, that of a tough, working class woman backed against the wall and scrambling, her pitch-perfect accent, familiar staccato laugh, and straight-shooting character delineation are like gourmet food in a brown paper bag.
Tate Donovan's nuanced Mikie is a revelation. There's little in his film repertoire indicating acting chops. A dozen subjugated emotions play across restrained features and purposefully in-check body language before fury erupts. In a role not written for outward demonstration, Donovan is compelling.
Renee Elise Goldsberry (Kate) has immensely graceful stage presence. She seems every bit the sophisticated, strong minded, spoiled, compassionate Kate. Her ballast calm is as believable as gravity. Reactions are minimal but always visible, perfectly fitting to her character's controlled personality.
Becky Ann Baker is the kind of trooper you could drop into almost anything theatrical with confidence. Her truthful characterization simply makes Jeanie real.
Estelle Parsons (Dottie) supplies comic relief. She manages to mug without losing the brittle, selfish, stubborn, slightly goofy landlady to expressions.
Patrick Carroll's unaffected portrayal of gentle, young Stevie simply getting on with things as best he can, is understated and credible.
The meticulously wrought production is handled with sensitivity and staunch backbone by Director, Daniel Sullivan. To most of us, this world is other, yet Sullivan's interpretation makes it immediate and accessible. Pacing is adroit. Especially in Mikie's home, the character's dance around one another's agendas is almost as choreographed as it is directed.
David Lindsay-Abaire's play, The Rabbit Hole won the Pulitzer Prize for Drama in 2007. His precise observation and natural ear for dialogue support big themes hiding in smaller, universally affecting pieces. Good People is a blessedly old fashioned linear piece of direct story-telling. That he manages to pepper the entire evening with laughter, even at the most dramatic moments, is a marvel. Lindsay-Abaire has been nominated for a Grammy and two Tony Awards for his book and lyric work on musicals. I'm hoping he can't cook.
John Lee Beatty's Scenic Designs open and close like the overlapping windows of a kaleidoscope. Smaller sets are visualized with interesting and intimate angles, bringing the action forward. A piece of Lalique on steroids, an uber-cheese tray and one of Dottie's "google-eyed" rabbits—all wonderfully conceived—figure prominently in the pay-off confrontation.
David Zinn's Costume Design kicks out the jams with Dottie's socks under sexy mules, her brown plastic patent leather boots, flapper headband, teal eye shadow and spiked hair (great look, Estelle).
Photos by Joan Marcus
Good People by David Lindsay-Abaire
Directed by Daniel Sullivan
The Manhattan Theater Club
Samuel J. Friedman Theater
261 West 47th Street
www.mtc-nyc.org
Through May 8, 2011