Tony Denison aka Andy Flynn Talks About The Closer, Major Crimes, and Provenza (G.W. Bailey)
This story was first published on July 16, 2012.
They are Abbott and Costello, yin and yang, Frick and Frack. They have even inspired a nickname, "Flyvenza." While Deputy Chief Brenda Leigh Johnson played by Kyra Sedgwick closes the cases, Andy Flynn (Tony Denison) and Louie Provenza (G.W. Bailey) are the characters the fans love to watch. The Closer may be winding down, but Flynn and Provenza will still be around as Captain Sharon Raydor (Academy Award nominee Mary McDonnell) takes over LAPD's major crimes division. According to Denison, the final episode of The Closer will flow "seamlessly" into the first episode of Major Crimes. Now that Brenda has broken the gender barrier in the squad room, will Flynn and company fall easily into line? "Not so much," said Denison. "There's going to be fireworks."
And plenty of drama and comedy involving Flynn and Provenza. The episode that airs tonight (July 16) will once again have the two playing off each other as their missteps interfere with their ability to solve the crime. Denison, on a break from filming the final few episodes of Major Crimes, chatted by phone from Los Angeles. "I'm thrilled to be a part of [The Closer]," he said. "But now to have this wonderful opportunity to continue with Major Crimes…" His character became an integral part of The Closer's success and, along the way, Denison has managed to influence one of the show's serious story lines dealing with alcoholism.
Denison describes his casting as Andy Flynn as one of life's "you never know" moments. James Duff, the show's creator, executive producer, and writer, had Denison read for several roles that ultimately went to other actors. "It turned out, the series regulars, I wasn't going to be a part of that," he said. "I was disappointed. James was, too."
A month before production, Denison received a call from the show's casting director. Duff wanted Denison for a guest star role, a character that might come back from time to time. "So I went and did it," he said. "My character shows up, it's the first six or seven pages of the story, and then he shows up again like for half a page somewhere else in the plot."
When TNT tested the show, people wanted more Flynn. "People wanted to know where [Flynn] was storming off to after a fight with Brenda," Denison said. "Would he exact some sort of revenge?" Denison was asked back for 7 of 12 episodes, but actually ended up doing 9 episodes. "TNT stopped by the set one day and said to James—James relating the story to me—you know we were just looking at some of the episodes that were done and we realize that those two episodes that Tony's not in, that's two episodes too many. Let's make him a regular. And I became a regular."
If Denison's story of his Closer success seems serendipitous, circumstances haven't always worked in his favor. In 1991, he was cast in a TV series, The Company, with Linda Purl, about a husband-wife team working for an intelligence agency. Unfortunately, the show, launched with a made-for-TV movie that received very positive reviews and ratings, was affected by the outbreak of the 1991 Persian Gulf War. A two-part episode was planned with the husband-wife team, Dylan and Kate Del'Amico, infiltrating Iraq after that country's invasion of Kuwait. Fiction came too close to reality and the two episodes were held. After the war was over, the series resumed but was ultimately canceled. G.W. Bailey had a recurring role on the show as the head of the CIA-like agency, appearing in four or five of the 13 episodes that were shot. "That's where I met him," said Denison. "We got along famously. Then I didn't see G.W. again until the first episode of The Closer. When we ran into each other on the set, it was as if we had been talking about a week ago. We immediately picked up the conversation from where it left off."
This time out, the result would be more positive. "We were both watching the pilot episode and we turned to each other and said almost simultaneously: `This is going to be a hit.' And, you know, we were right." He laughs."I don't know. We could have been wrong, but we were right. I like to think it was because we knew something. We rolled the dice mentally based on experience and it came out right."
To what does he attribute The Closer's success? "You can get the greatest baseball players in the world," he said. "You can put them in a stadium and if there's no foul line no bases, there's chaos. But if you tell them, here are the perimeters, these are the rules, and if you follow these guidelines, these excellent ball players will perform excellently. And I think that's the case with drama. You have a really, really good script, characters and then a plot to support these characters. That's a formula for success."
Although Kyra Sedgwick is The Closer, the show is very much an ensemble, with terrific chemistry between the actors. "Who you wind up casting in the roles [is key]," Denison said. "It's no accident that our show was nominated 5 of the 7 times for best ensemble. It's a good group of guys and girls."
The love-hate relationship between Flynn and Provenza began with a real life incident that is now part of their interplay. "We were rehearsing and I sat down on the corner of G.W.'s desk. And he turned to me and said, 'Get your ass off my desk.' And I looked at him and said, `Are you kidding?' And he said, `No, get your ass off my desk.' I said, `Do you really care if I sit on your desk or not?' And he said, `I don't care but Provenza cares.'" From that point on, Denison and Bailey decided that occasional friction would define their friendship and Duff began to find more ways to include those moments in the show. "The two characters by the end of the first year evolved into this love-hate relationship, but mutual respect for one another," said Denison. "Occasionally we would get the opportunity to take turns being Abbott and Costello."
Perhaps the most beloved Flynn-Provenza episode is Season Two's "To Protect & To Serve," when the duo puts off reporting a body found in Provenza's garage so they can attend a Dodger game. When the body turns up later in a different location, Flynn and Provenza tell Commander Taylor (Robert Gossett) that Brenda has asked them to take over the case. "Sky box tickets!" Brenda shrieks when she discovers why they put off making the call.
That episode remains one of Denison's favorites along with two others. In "Old Money" from Season Six, Flynn is attacked leaving an Alcoholics Anonymous meeting. The fight scene, lasting more than one minute, has Flynn getting stabbed before he fends off his assailant. "[The scene] was almost like something out of the Bourne Identity or James Bond," he said. "It was like all those super-duper battles that the hero has with the villain. And I love doing that. I love doing that."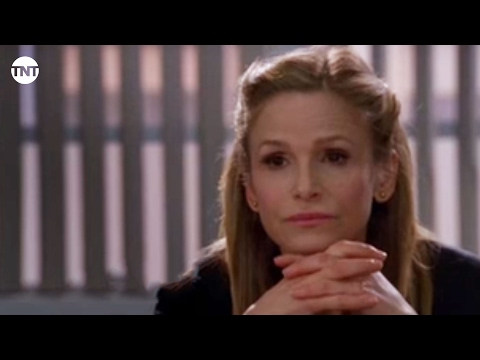 The one episode that Denison still finds "endearing and touching," is "Road Block" from Season Seven, when the police commissioner's wife, played by guest star Elizabeth Perkins, tries to cover up her drunk driving which led to the death of a college girl. "I still think about that episode to this day," he said. In the episode, Flynn is in a car behind the accident and consoles the young woman while she is dying. He praises Perkins's performance. "I hope that Elizabeth Perkins gets nominated for an Emmy for her performance," he said. "She was just amazing." There is a compelling scene in the episode when Flynn confronts Perkins's character about her drinking. (See video above).
Denison, a recovering alcoholic, has worked hard to have that story line included in The Closer. From the beginning episode, FBI Agent Fritz Howard played by Jon Tenney was in AA. Denison spoke with Duff about also making alcoholism part of Flynn's back story. He told Duff about his own recovery and talked about how many people who work in life-or-death situations—police officers, fire fighters, military personnel—often self-medicate to relieve their stress and pain. He wanted Flynn's character to serve as a role model, helping to inform and educate those watching the show. "I said I would love to be able to do that rather than have scenes where, you know, we're sitting around in a bar having a beer," he said. A few days later, Duff was on board. "The way it's handled in the show, it's really done well," Denison said. "James is brilliant. He's not just interested in doing some shlock alcoholic dialogue."
Besides reaching people through the show, Denison gives motivational talks. "I got sober and I've done a lot of reading over the past 19 years of my sobriety and I guess I'm able to turn a phrase and motivate people who are operating unfortunately out of fear," he said. "That's what life is about. We either operate with love or we operate with fear."
For more than a dozen years, Bailey has been executive director of The Sunshine Kids Foundation, a nonprofit dedicated to helping children with cancer. "Everybody involved with the show is involved with Sunshine, some very actively, and some on the periphery," said Denison, who himself has donated considerable time and money to the organization. "Everybody loves helping out; it's a worthwhile organization." Fans, too, can help. As The Closer approaches its final episode, The Sunshine Kids Foundation is hoping to raise as much money as possible. (See how to donate at the end of the story).
Denison's parents emigrated from Sicily when they were children and settled in Harlem. The family later moved to Queens then Hicksville, Long Island, where Denison went to high school.
When filming for Major Crimes finishes, Denison said he plans to pursue other roles, perhaps a film. He has formed a production company with a good friend and they hope to produce reality programs.
Anything left on his to-do list? "Yes, I'd love to be able to play a cowboy," he said. "And I don't care if I'm the hero or the villain. I haven't had the opportunity to play an attorney yet. So that's what I'd like to do. The two roles left–a lawyer and a cowboy. Maybe I could do both, a lawyer and a cowboy."
Denison didn't reveal how Brenda will leave the show or the identity of the mole who has been sabotaging Brenda, but he does say there will be surprises. We can't wait.
The Closer
TNT
9 p.m. Mondays
Check local listings
To donate to G.W. Bailey's favorite charity, you may send a check to The Sunshine Kids Foundation, 2814 Virginia Street, Houston, TX 77098 or go to the website. Please include "In honor of The Closer" on your donation. The Foundation will keep track of these special donations and provide G.W. Bailey, Tony Denison and the rest of  the cast with the list of people who donated (names only, not dollar amount).