I enjoyed covering Williamsburg Fashion Weekend this past February and all its boundary-pushing shows. But after two nights of absorbing designs that walked a fine line between innovative and straight up bizarre, the majority of them began to blend together in my over-stimulated mind. Not that I didn't thoroughly appreciate all the outlandish gear. I live for that. I adored basically everything I was exposed to, but when all is different its hard to stand out. What was unexpected and did not get lost in the pile of leather lingerie and marshmallow dresses that clogged my unconventional brain was the classic collection and modest show of Nathalie Kraynina who proved to be the most different of all. Her collection of elegant chiffon tops and wool A-line coats was as striking as they were subdued; clothing that my conservative and eccentric friends alike were pining to own.
I wouldn't be surprised to see Nathalie's clothing at a Mercedes Benz Fashion Week venue someday, but I was surprised to learn that I witnessed not only her first collection but also her first appearance in any fashion show. Her presence on the Williamsburg catwalk sparked stellar reviews and a bit of recognition in the industry. "I think I got my foot in the door a little bit," Nathalie told me. She was approached by Mercedes Benz to be in a show that features young designers and was named a designer to watch by Refinery29.
Like her clothing, Nathalie is modest and genuine yet woven with the right amount of bold threads necessary to make it in the cutthroat fashion world. The name of her debut show, and a theme that she plans to incorporate throughout all her collections, is a phrase she coined "Password is Love". Nathalie feels that in order to unlock your desired success, whether it be within your career or personal relationships, you need to use the L-word as the key. "Its kind of my philosophy. You have to love what you do, you have to love what you're wearing, and you have to love who you are."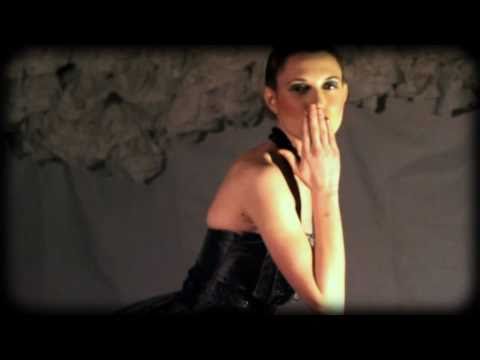 It is quite evident that Nathalie loves making clothing, it being her constant aspiration since childhood. While studying at FIT, she starting selling a few of her creations to a Park Slope boutique before deciding to launch her own ready-to-wear line. When she isn't designing nighttime apparel for a small clothing company, she is in her Greenpoint apartment working on her upcoming collection, draping fabrics and sewing to classic rock and minimalist house music.
When looking at the flattering feminine figures her designs create on the body, it's no surprise that she almost specialized in tailoring. She incorporates her tailoring and custom bridal design experience into her work, often creating silhouettes that are very clean but making them a bit asymmetrical or with fabrics that people wouldn't expect. "Another thing I like to do is have a contrast between textures or between colors, even if it's a subtle contrast. That way it's still classic and subdued but when you really look at it up close it's special." For her newest collection she has been incorporating a lot of "dirty shine" and subdued shimmer, something she feels will be very much in style this season.
Nathalie finds inspiration in New York's energy and the women that contribute to it, using the fierce female cosmopolitans as a muse for her designs. "I'm trying to appeal to the New York girl: she's young, she's motivated, she likes to go out but she still works in a professional environment, probably in her first or second career job. I want to make clothing that is everyday but elegant." A poufy-pocketed white dress, which Nathalie tells me is probably the most dramatic piece for the new collection, fits that bill. This dress, which I could envision Sarah Jessica Parker picking up her mail in, if she picks up her own mail, is made with tulle and pink silk and finished off with a pink copper woven mesh bow. "The dress is very pretty and very girly so I wanted to give it a bit of rock and roll," Nathalie tells me while pointing to the black leather strap on the dress.
And rock and roll shall be the theme when she shows off her new collection during the second evening of Williamsburg Fashion Weekend on September 17. Her performance will be inspired by the strong yet vulnerable rock star, Janis Joplin. Nathalie has been busy fitting models and putting the final touches on pieces to prepare for her show, which will kick off with a speech by Janis.
There's another strong woman that Nathalie idolizes, one that may not be a rockstar but is just as fashionable and just as inspiring. Bulgarian born Nathalie moved to the US with her mother when she was only 13. Her mother did it all on her own, and Nathalie credits her as a source of motivation. "As much as I want to do it for myself, I want to do it for her. Because I know the sacrifices she made. If I was in my country I would have never had the chance to make it. She sacrificed a lot to get me here."
Nathalie's new line will be shown September 17th at the Windmill Studios NYC, 287 Kent Ave. Brooklyn, NY for Williamsburg Fashion Weekend. Her clothing will also be available at Eidolon (233 5th Avenue, Brooklyn).
For more information visit www.nathaliekraynina.com
Photo credit in order:
Opening photo by Gina Tron
Black and Tan by Vera Miljkovic
YouTube video of Nathalie Kraynina Williamsburg Fashion Weekend
Nathalie Kraynina by Theo.Dora
Tulle Dress photo by Vera Miljkovic
Nathalie Kraynina fitting model by Theo.Dora