Sarah Oliver Has a Business with Heart
Sarah Oliver's New England roots and the solid family into which she was born may be the source of both her work ethic and her humanist value system. They also undoubtedly contributed to the can-do spirit that allowed her to opt for a business model that goes against all logic and prudence.
Sarah's Boston/Westchester family was creative in hands-on ways; her mother gardened, her father worked in wood. As a child, Sarah did what she could to help them both. She admired hooked rugs created by her paternal grandmother out of scrap material or old clothes cut into strips and was taught to knit by her mom, maternal grandmother and Great Aunt Mary. "I connected with the women of my family on a whole different level because of our mutual passion for handwork. It was how we communicated, our common ground and interest." (She's teaching her own daughter Annie now)
After securing a degree in Economics, something she thought would land her a post- graduation job, Sarah worked for Blue Shield of California in San Francisco helping define their corporate culture. She left upon Annie's birth in 1997 and became a full time mom until her kids were in elementary school.
At first, Sarah's idea was merely to knit bags for friends and family. She experimented, but it was not until she was drawn to a felted bag at a trunk show, things came together. After some comparative research, Sarah came up with her own patterns. Enthusiasm encouraged the start of a small business, but her own hand knit samples generated too many orders for one person to fill. Sarah's mother-in-law volunteered to help. It was not enough. Graduate school friends all gave her the same advice: manufacture outside the country for cost feasibility. "I had absolutely zero interest in doing that." You can practically hear the resolve in her voice, can't you? Sarah wanted to be closely involved with the creation of her bags. Knitting was a family tradition and held a special place in her heart. Additionally, she had two small children who were unquestionably her priority.
It occurred to the budding entrepreneur that senior citizens who loved to knit might help grow her business in the way she felt most comfortable. "I have a soft spot for older people. It may sound strange, but I love their hands. They're like pieces of art to me." The Redwoods Senior Retirement Community (in Mill Valley, California) was omnipresent. "They march in local parades, volunteer all over town, and peacefully protest the violence of war every Friday afternoon. Check this out! I had brought my children to a weekly playgroup that met in their health care building, so I was a little familiar with them."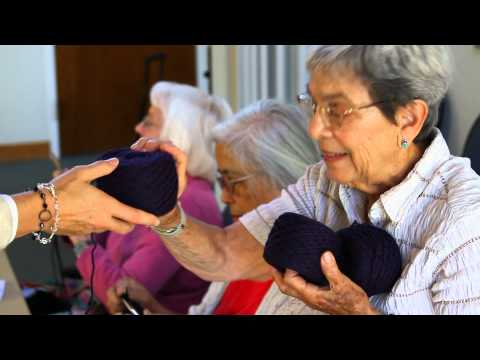 Sarah approached the facility's Programs Director about looking for knitters in 2005. She was surprised to be asked whether the seniors would be paid. To do otherwise would never have occurred to her. A sign was posted and people began to show up for weekly sessions. Anyone who wasn't proficient was taught. "My goal was to have them knit all the evening bags while I experimented with other styles. Ironically, I learned that knitting with black yarn was a strain on some of my knitter's eyesight." Sales Rep Jenny McLaughlin suggested a contest to name the knitters. The winning entry was "Purlettes." There are currently 15 "Purlettes" ranging in age from 78-96 years. When Hector, the only man joined in 2010, it was amended to the Purlettes & 1. "He loves calling himself the plus 1."
Daphne Campbell calls their fees "jam money-not enough to live off of, but enough for little niceties." Sarah sits and talks with them while patterns she's designed are knit. At the end of each "meeting," she collects finished work, records what's been completed, and passes out new yarn. Aware of each person's skills, Sarah adjusts production accordingly. Herein her explanation of the process: Once knitting is complete, the bags are put through a hot wash cycle, felting, then air dried. The result is a tightly woven wool textile, the "shell" of the handbag. Shells are then finished by hand with metal hardware, leather bases and straps, magnetic closures encased in leather, fabric interiors."
"The Purlettes & 1 like to hear stories about the company, events, stores, customers; to know how their work contributes to our success." Once a year, current Program Director Jim Sanchez arranges a bus outing to Gump's in San Francisco so the team can see their work on display in a prestigious store. "They're very proud."
Many relationships have developed. "Really, they're like grandmothers to me." Sarah's been invited to birthday parties and gone on outings with family members of the Purlettes. They know her husband and children and give Sarah advice on her aging parents. Mary Rozen began knitting for the soldiers when she was very young as part of The Red Cross. Rose Kleinman thinks she's been knitting forever. "I feel a part of every bag that goes out." 96 year-old Kirsty is determined to come to next week's gathering despite a recent bout with pneumonia. Assuming she's up to it, the staff has agreed to wheel her into the room oxygen tank and all!
Sarah Oliver Handbags has slowly and steadily expanded. Her children continue to come first. Relationships with wholesale accounts are based on sharing the very important story of the bags creation. "With the aging Baby Boomer population entering retirement and beyond, I'm confident my work force will continue to grow," Sarah tells me with obviously no intention of changing the way she does business. It's a wonderful story, isn't it?
————————-
The Autumn line consists of 5 models: Mini Clutches, Clutches, a differently shaped Evening Bag, the Coco, and a larger Shoulder Bag, all in 6 colors: Black, Charcoal Grey Champagne, Dragon Red, Persian Plum and Midnight Blue. Each bag comes inclusive with a detachable silver or gold circle brooch and your choice of one more elaborate model. Only when you add a second elaborate brooch is additional cost incurred. There are 16 Brooches to choose from.
Photos of Sarah Oiver and the Purlettes & 1 (in order):
Sarah at 6; Sarah & Knitting teamHector Richards, Harriet Mandala, Sarah Oliver, Kay Gainey
Three side by side images-: Daphne Campbell; Daphne Campbell, intern Nora Handsher, Verena Christen, Rose Kleinman, Kay Gainey; Joyce Pastene